Tea Cupcakes with Candied Lemons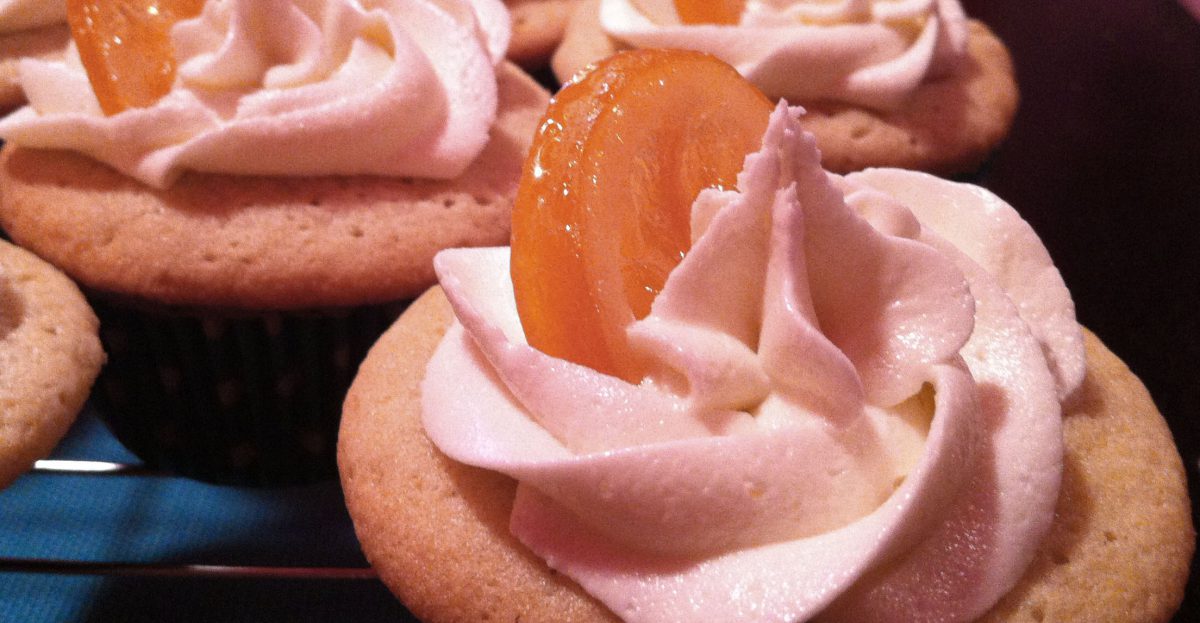 When he heard of my Guinness cupcakes, my friend Trevor joked that I should try Long Island Iced Tea cupcakes next time. Very funny, I thought. But, then, the deal with Long Island Iced Tea is that it tastes like real tea in the end, right? So, why not just use the real deal in my cupcakes? He and his wife conveniently threw a BBQ about the same time. What better for a warm (or cold and rainy, as the case turned out to be) spring day than a batch of iced tea?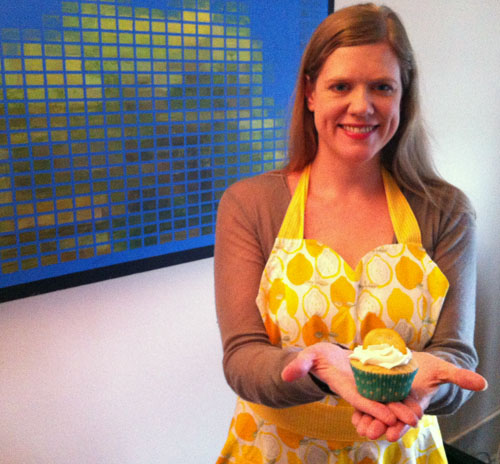 Newly baked and iced, the cupcakes had a delicate but certain tea flavor throughout. Interestingly, it seemed to fade from the cake but intensify in the icing over the few short days these sweets lasted. (See recipe below.)
For decoration and a bit of flavor, I added half a slice of candied lemon to each cupcake. I had made them the night before, simmering lemon slices in sugar and water for an hour and leaving them to dry on racks overnight (the Pip & Ebby blog has good instructions, if you'd like to try making these yourself). I think the candied lemons were a nice enhancement, the taste of lemon complementing the tea.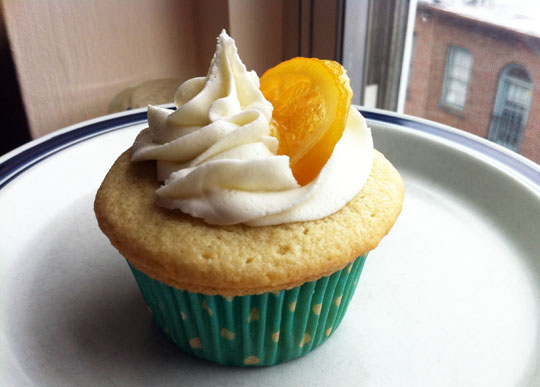 Taster Response
My friend Scott told me, "Your cupcake was not a super saccharine, hostess-flavored, over stylized designer cupcake, it was a adult cupcake. I hoovered it."
"Adult" it may have been, but Miss Sophia (below) seemed to be a fan, too.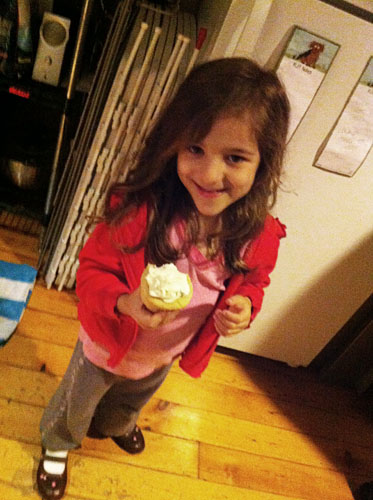 *Stef of the Cupcake Project seems to have thought of everything. I found her post "How To Get the Flavor of Tea Into Your Baked Goods" when researching the best way to make tea-flavored cupcakes. I did pretty much what Stef suggests to make enough tea-infused butter for the cupcakes and frosting, and it worked like a charm. I kind of want to use this stuff on everything now. Do check out Cupcake Project for lots of impressive—and successful—cupcake experimentation!
Recipe:
Iced Tea Cupcakes
Makes 30 cupcakes
1 1/2 cups tea-infused butter (see post)
1 1/2 cup sugar
6 eggs
3 cups all-purpose flour
5 1/2 tsp baking powder
1 teaspoon salt
1/4 cup almond milk

Preheat oven to 350°. Place 30 paper baking cups in muffin pans.
Cream butter and sugar, add eggs one at a time, mixing until smooth.
Sift dry ingredients and slowly add, alternating with almond milk. Mix.
Spoon/scoop into tins and bake for 18-20 minutes.
Remove from oven, cool in pans 5 minutes, then remove to cool completely on racks before icing.
I made buttercream frosting using tea-infused butter in place of about 1/2 the regular unsalted butter.