Banana Rum Cupcakes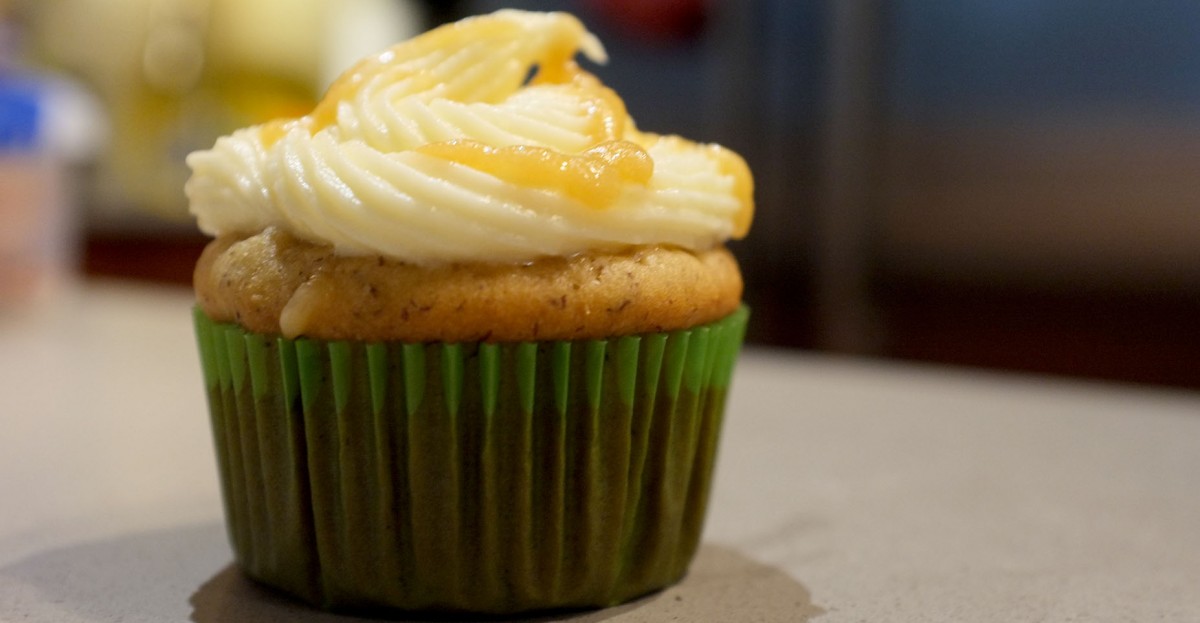 I did not bake cupcakes during maternity leave (though I did manage some brownies), but my husband did. His office was holding a bake-off, and he was all in. He wanted to bake banana bread rum cupcakes with cream cheese icing and a rum sauce on top. I did not help him bake or frost the cupcakes–I promise!–but I did develop the recipe (below!) for him.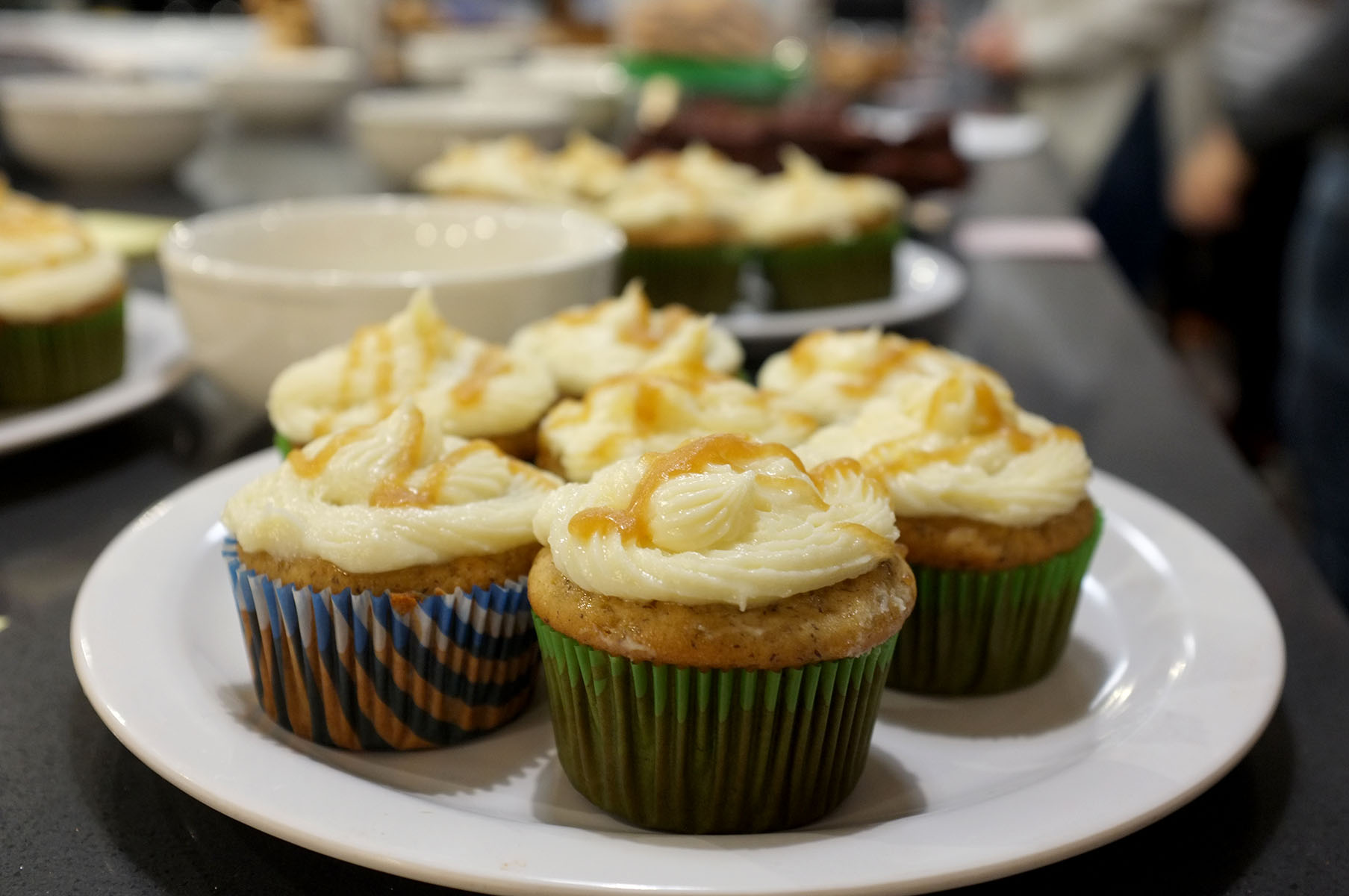 The banana rum cake turned out great. It hit the mark between the taste of both banana bread and rum cake but was lighter than those baked goods typically are.
I'm not providing a recipe for the butter rum sauce, as it requires more testing. We started with too much cornstarch, ended up heavily "watering" it down with rum. It worked, but I'm not sure I could replicate it. It was made from Mount Gay Rum, cornstarch, brown sugar, and butter.
The cupcakes lost third place by one vote! They garnered many sweet comments from happy tasters, though.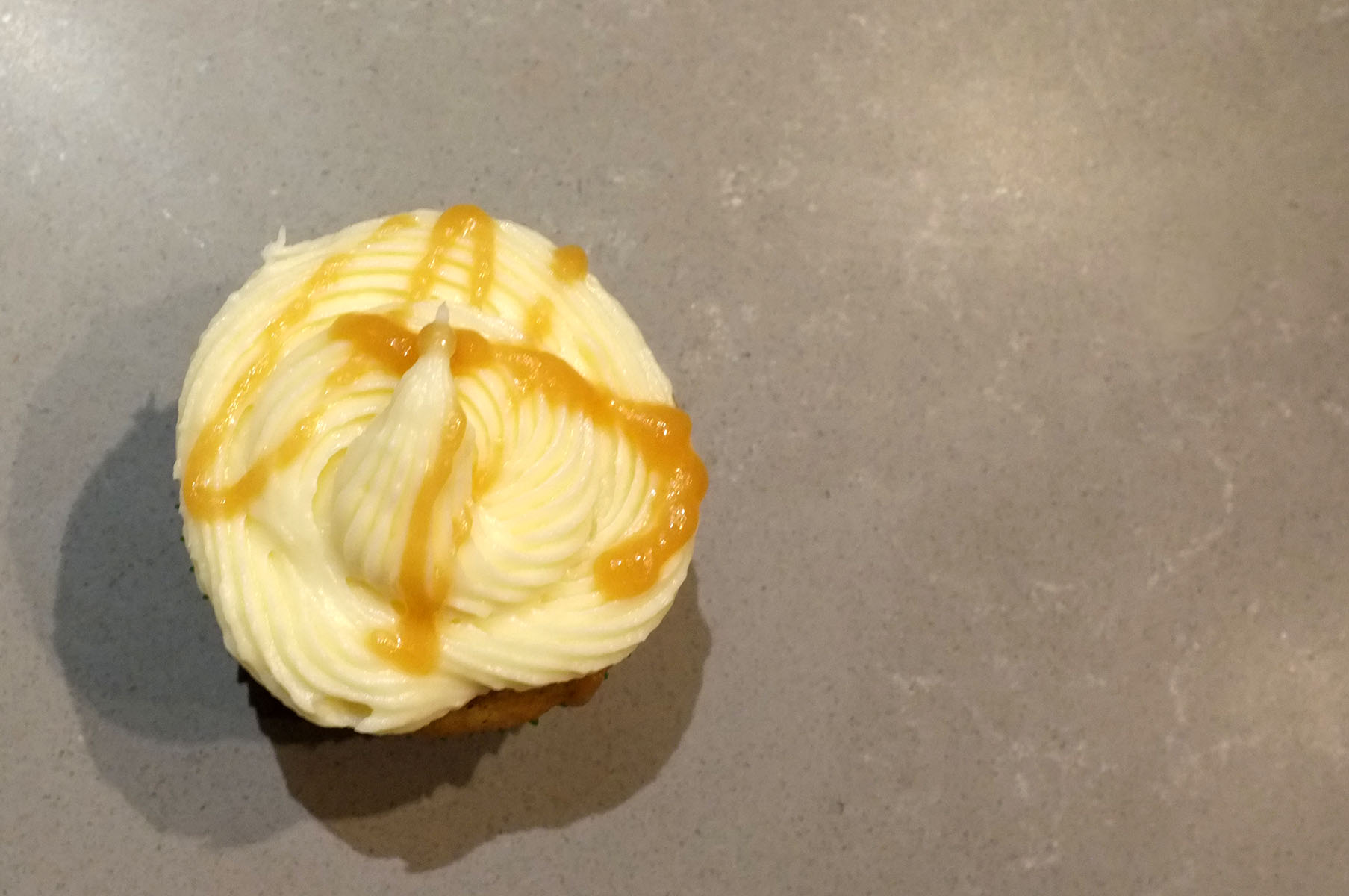 My husband was disappointed the final product did not taste more boozy. If that is your goal, I would recommend more rum poured over the top of the cupcakes pre-frosting. You could do a rum glaze instead of the cream cheese frosting, more like a typical rum Bundt cake, but that would be a different dessert.
Recipe:
Banana Rum Cupcakes
Makes 2 dozen
1 cup dark rum
1 1/2 sticks unsalted butter
1 cup sugar
2 1/2 cups flour
1 1/2 teaspoons baking soda
1/2 teaspoon salt
2 large eggs
1 cup (8 oz.) sour cream
1 1/3 cup pureed banana (2-3 bananas)

Preheat oven to 350 degrees F. Line muffin tins with paper cupcake liners.
Bring rum and butter to a simmer in a large saucepan over medium heat. Turn heat off and let cool. Add sugar to mixture and whisk to combine.
Sift together flour, baking soda, and salt.
Combine the eggs and sour cream on medium speed in a mixer with the whisk attachment.
Slowly add cooled rum mixture to the egg mixture.
Add the sifted flour mixture (1/3 at a time) to the rum-egg mixture.
Mix in the banana purée.
Scoop into pans and bake for 20-24 minutes (turning halfway through) or until the tops are firm to the touch. Let cool in pans on wire rack for 5 minutes, then remove from pans.
Dribble a teaspoon of rum over each baked cupcake when you take them out of the pans.
Let cool completely before frosting.