Guinness Chocolate Cupcakes for St. Patrick's Day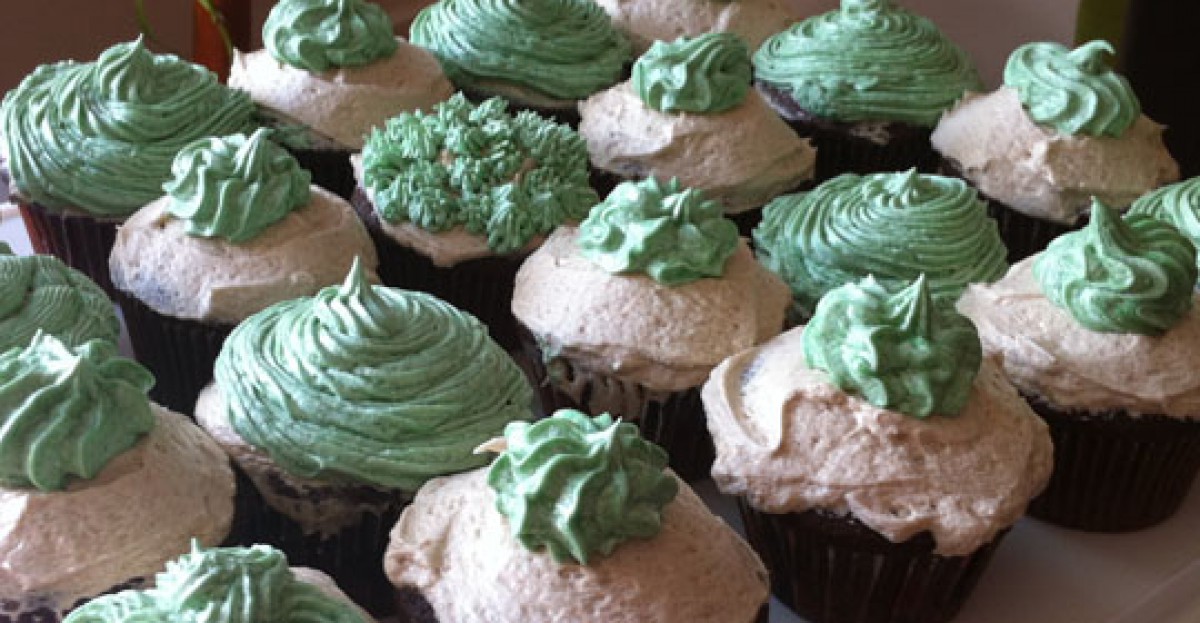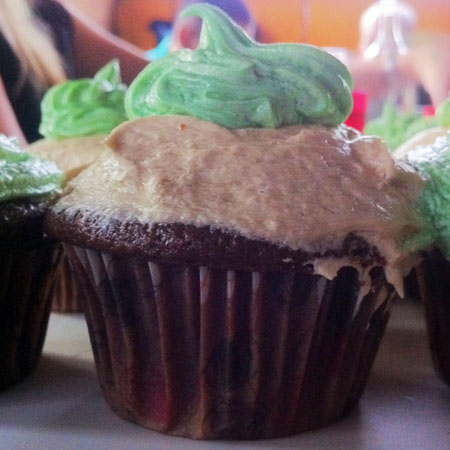 St. Patrick's Day was approaching, and I was pondering my cupcake options. It seemed an appropriate opportunity to try my hand at baking with booze, so I decided to make cupcakes incorporating Guinness, the best-known Irish stout.  I'm not a huge beer drinker, but Guinness happens to be one I do enjoy. It was the first drink, my boyfriend reminded me, that he ever bought me.
I followed this recipe from Holidays Central, but there are several versions across the web to consider trying. Some add Baileys and/or whiskey to complete the Irish alcohol theme. This one uses reduced Guinness in both the batter and frosting, embracing the stout flavor. The alcohol is cooked off, so these cupcakes are appropriate for all. My changes were that I used bittersweet instead of unsweetened chocolate and reduced the sugar to 1 1/2 cups.
Cooking beer on the stove top was a new one for me. The entire apartment smelled like it. I simmered a cup of Guinness with a stick of butter, adding chocolate, and that started to smell just delicious.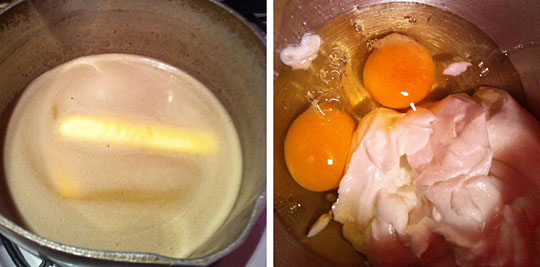 Also new, eggs and sour cream are not usually the first thing that goes into my mixer, and I don't usually mix batter with the whisk attachment. It all worked out a-ok, though.
While the cupcakes were baking, it smelled a bit like baking bread. One who tasted them made a comment that they tasted a little bit like sourdough. Interesting… I did notice that the Guinness flavor seemed more intense when the cupcakes were a day old.
For the frosting, I added all of the reduced Guinness, determined to get the taste, but the mixture went a little weird, separating. I added more butter, which started to smooth it out, then more powdered sugar, until I got a consistency I like. The Guinness buttercream was still different from my regular frosting, it didn't seem to want to completely let go of its bubbly beer nature.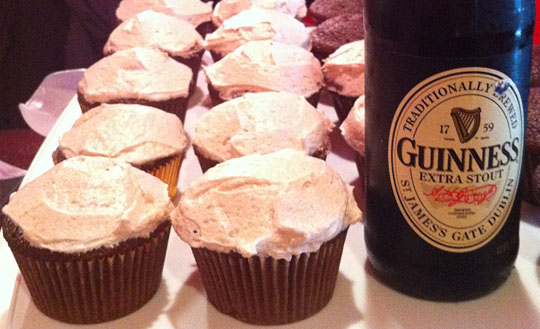 I couldn't resist going green for St. Patrick's Day, so I colored some of the frosting with green food coloring and piped swirls and dollops on top. They were all dressed up  in green, ready to make an appearance at two St. Patrick's gatherings that evening.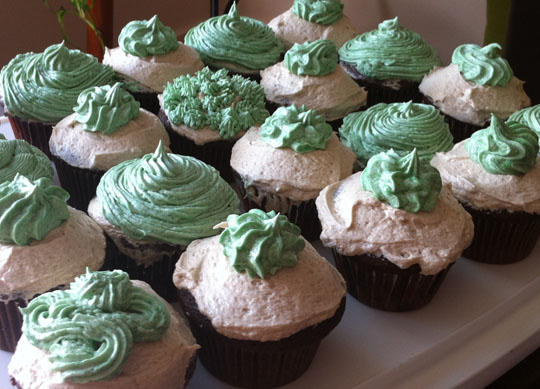 They tasted like chocolatey beer in a decidedly pleasant way. The flavor was more subtle in the frosting, but it was there, a twist on my regular vanilla buttercream. The consensus was that they were great. My baking with Guinness got a thumbs up!