Hot Chocolate & Marshmallow Cupcakes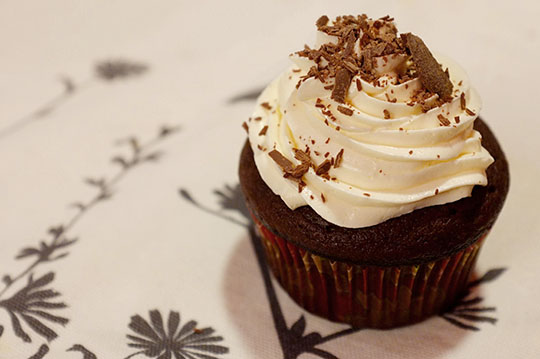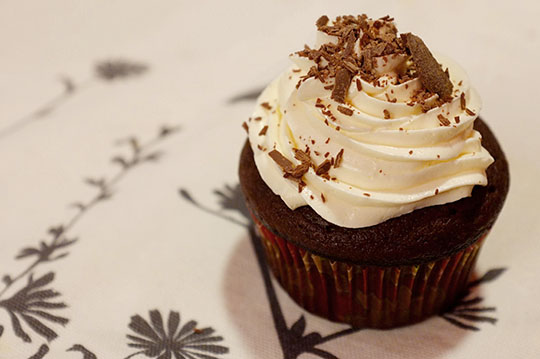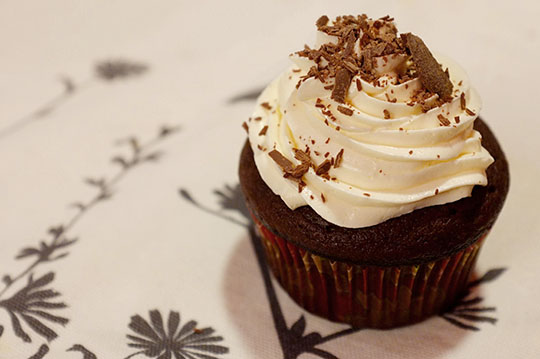 There's nothing like a mug of hot chocolate with marshmallows on a cold winter evening. And, boy, have we had some cold ones lately! Though it is currently in the 40s in NYC, I wouldn't be surprised if we get back to single digits this winter. It is the age of wacky weather. 50° or 15°, though, a cup of cocoa is often just the thing.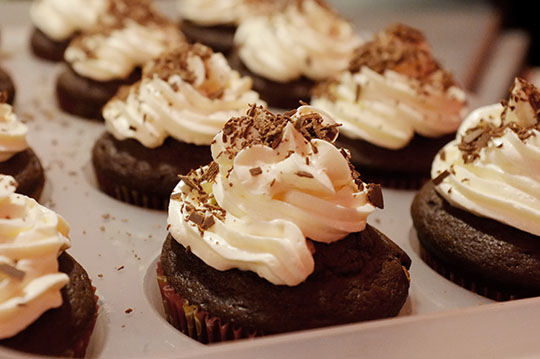 My husband and I were triple booked on a recent cold Saturday night, so I made a big batch of "Hot Chocolate" to give cupcakes at each event. These were baked from my usual chocolate cupcake recipe that uses cocoa powder (go for the good stuff), which seemed appropriate. Any such chocolate recipe should do. I finished them off with marshmallow frosting (recipe below) and some bittersweet chocolate shavings.
Attention, Vegetarians!
Marshmallow Fluff®, unlike most actual marshmallows, does not contain gelatin. It does contain egg whites, so it is not vegan, but it is totally cool for lacto-ovo-vegetarians. If you are buying a different brand, make sure to check the ingredients.
Recipe:
Marshmallow Frosting
Makes enough for 3 dozen cupcakes (depends on icing method)
4 sticks butter (unsalted) at room temperature
2 jars Marshmallow Fluff® (7.5 oz. each)
2 cups powdered sugar
1 teaspoon vanilla extract

Beat the butter and the fluff at medium speed. Shift to low and slowly add the powdered sugar. Add the vanilla and beat at high until fluffy.