Black and White Cupcakes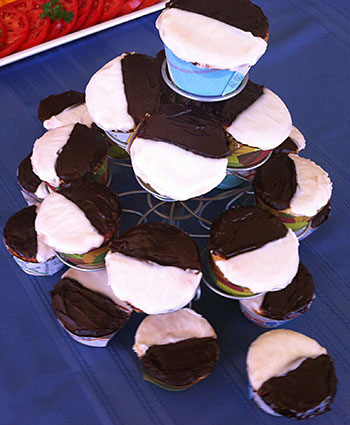 The Cupcakes
Black and white cookies are a New York classic, so I thought I'd make a cupcake version for a returning native's bridal shower.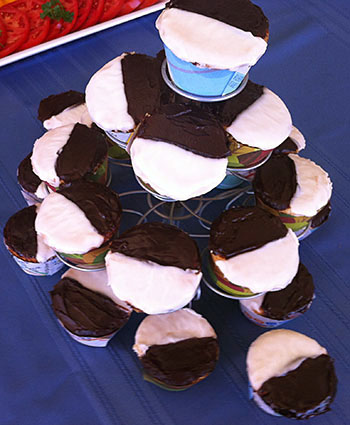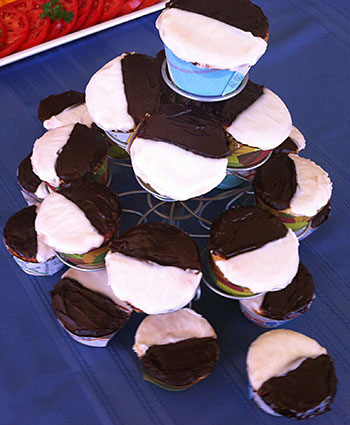 For these, I baked straight from Bon Appetit. Why muck around when their test kitchens already perfected a recipe for black-and-white cupcakes? One of my co-hostesses found them on good ol' Pinterest, and—after inspecting the ingredients for NYC b&w cookie authenticity—I carefully followed the directions.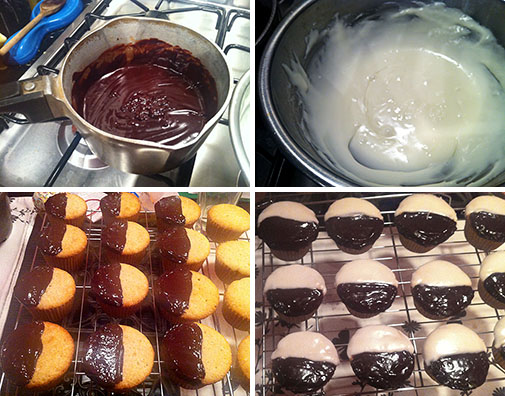 The hardest part was getting the halves of icing exact. I had been thinking that any irregularities on the chocolate side would be more noticeable, so I did those first in case I needed to cover up imperfections. The white icing was not opaque enough, however, to allow for correcting when I added the second side. Next time, I might start with the white half.
They weren't perfect, but I think they looked enough the part! And they tasted just right.
I believe it was the bride's sister (and Woman of Honor) who called them "cupcookies" and began lobbying for more cupcake versions of various cookies. Maybe… What kind of cupcookies would you like to see?
The Wrappers
I made cupcake wrappers from NYC subway maps and from a design on the shower invitations. Making your own wrappers is really easy to do. Offbeat Bride has a great tutorial including a template. I found that my cupcakes were smaller than the template, so I trimmed until they fit as I wanted.