Carrot Zucchini Chocolate Chip Cupcakes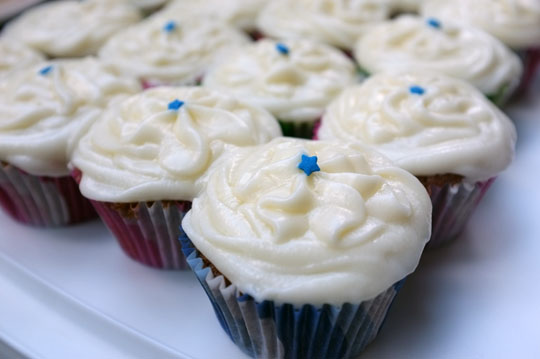 What better to do with extra carrots from my CSA (Local Roots NYC) than bake carrot cake? I had about 1/2 pound, though, which wasn't quite enough to make a full batch. I could have bought more carrots to make up the other 1/2 pound, but I decided to use zucchini instead. One big zucchini was enough to round it out. (The zucchini, I believe, brought in a little more moisture into the batter than just carrots would have.)
I worked from my usual carrot cake recipe (see my Carrot and Crystallized Ginger Cupcakes), but added chocolate chips instead of fruit or nuts. The chocolate chips sunk to the bottom, not necessarily a bad thing, but I had thought the grated vegetables would help suspend them in the batter.
I made cream cheese icing to top these, the traditional choice for carrot cake. I served them at a BBQ in 90° weather, and the icing was a melty mess. Everyone was very nice about that, even when they had to lick most of the icing off their fingers. One guest did run in to put his in the freezer for a few minutes before eating.
My boyfriend was coaching cupcake eaters. "Lift it very carefully. The icing won't drip if you keep the cupcake level. Keep it steady… Eat it, quick!"
The chocolate chips were also a little melted, but the comment was that gave the cupcakes a just-out-of-the-oven taste. I didn't intend to "cook" them with the icing on, though! Maybe my hot-day strategy should be to come with un-iced cupcakes, bring icing in a cooler, and finish on demand.
Recipe:
Carrot Zucchini Chocolate Chip Cupcakes
Makes 2 dozen cupcakes
2 1/2 sticks butter
2 cups sugar
1 teaspoon vanilla extract
3 large eggs
2 cups flour
2 teaspoons baking soda
2 teaspoons cinnamon
1 1/2 teaspoons salt
1/2 pound grated carrots
1/2 pund grated zucchini
1 cup semi-sweet chocolate chips

Preheat oven to 350° F and line muffin pans with 24 paper liners.
Using an electric mixer, cream the butter and sugar. Add the vanilla, then mix in the eggs, one at a time.
In a separate bowl, sift together the flour, baking soda, cinnamon, and salt. Add half of this flour mixture to the mixing bowl, reserving half, and mix completely.
Add the grated carrots and zucchini and chocolate chips to the remaining flour and mix well, then add to your batter. Mix until just combined, do not over mix.
Fill cups with batter about 3/4 full. Bake at 400° F for 10 minutes, then reduce temperature to 350° F and cook for about 20 minutes more. Cooking time varies, so start checking after 10-15 minutes. The cupcakes are ready when a toothpick comes out clean.
Remove from the oven, let cool 5 minutes in pans, then remove and cool completely on racks. Top with cream cheese frosting.