Salty Caramel Chocolate Cupcakes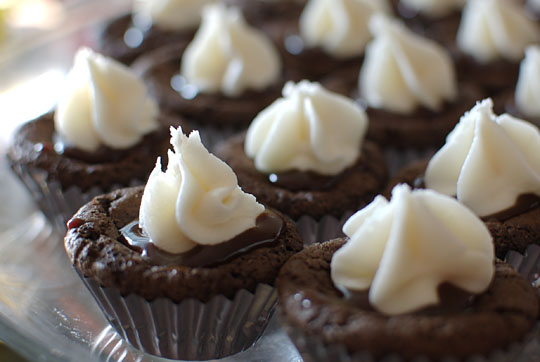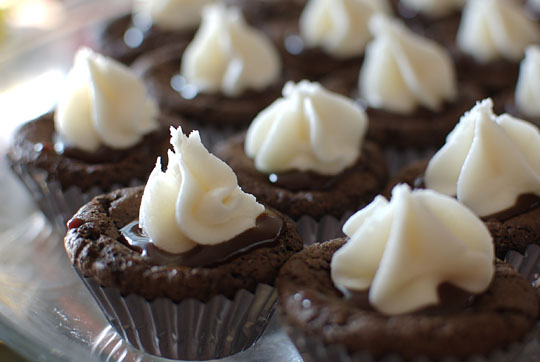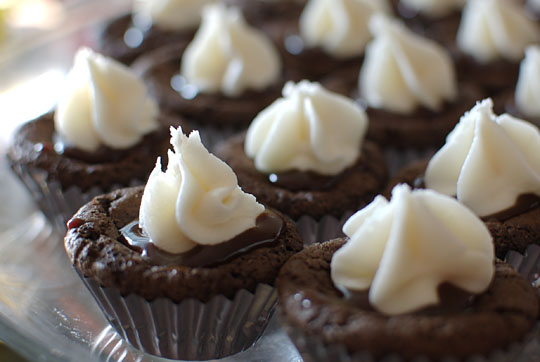 Martha Stewart included a recipe for Salted Caramel Chocolate Cupcakes in her 2009 cupcake cookbook, and there are countless posts web-wide about trying it out. I've had it requested a few times, and with a house guest as a captive taste-tester, it was time to try my hand.
Round #1
I followed the recipe for the Salted Caramel Filling from the cookbook, but I  used full-sized chocolate cupcakes from a different one (not as dense as Martha's, see below).
I made my first caramel a year or so ago and had absolutely no problem and a beautiful, delicious result. This time, however, I burned the first batch of caramel. It seemed to be taking awhile to get up to 360°, so I started coring the cupcakes. Mistake! It might take awhile to get started, but that molten sugar's temperature can spike suddenly.
The second batch did not burn, but my choice to use milk instead of cream was a poor one. I had milk on hand and thought "Why not avoid a trip to the store and make it healthier to boot?" Not sure what got into me!
The filling tasted right but was quite thin. It soaked right in when I spooned it into the prepared cupcakes. I added more but stopped when I felt I might be overdoing it.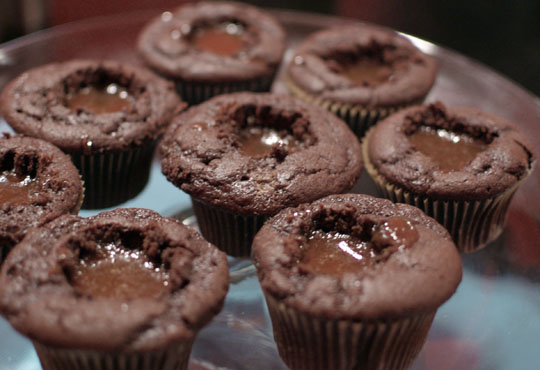 I filled the extra space with icing, vanilla buttercream with a hint of the caramel.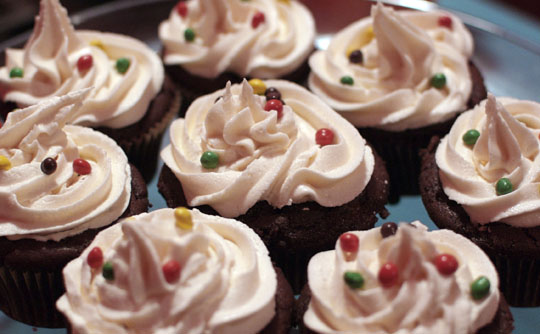 One friend, tasting the cupcakes, kept commenting about how wet they were. Not in a bad way, so she said, though "wet" is not an appetizing description of a cupcake in my book. (Note that she happily ate more than one!) Perhaps I should have called this batch chocolate bread pudding with salted caramel sauce.
Round #2
I found a slightly different recipe on MarthaStewart.com (Caramel with Salt from Baked in NYC), which adds sour cream, more corn syrup, and has more precise instructions, and decided I'd like to try it out.
This time I followed Martha's recipe for the mini chocolate cupcakes. The batter was some of the densest, darkest chocolate I've made in awhile. It's probably what the salted caramel really needs to balance out its flavor. They fell in the middle when cooling, so I did not core them, just filled in the space.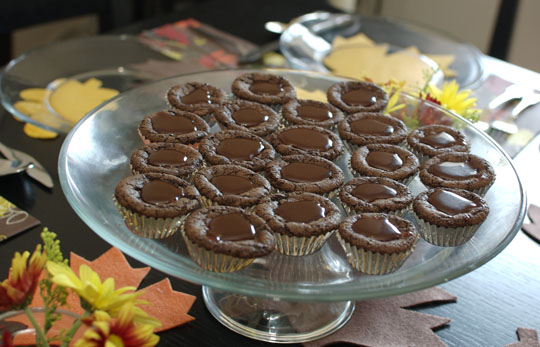 Success! Round #2 turned out as intended. I also think the small cupcakes work better for this rich, complex combination of flavors.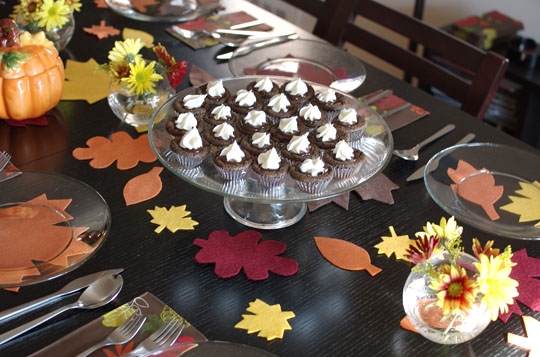 These cupcakes appeared on my Thanksgiving table. While baking them, I also made a pumpkin pie using Alton Brown's version with a gingersnap crust. I recommend it, see the recipe here! I served it with heavy cream whipped with a little sugar and maple syrup brandy.