Pumpkin-Cranberry Cupcakes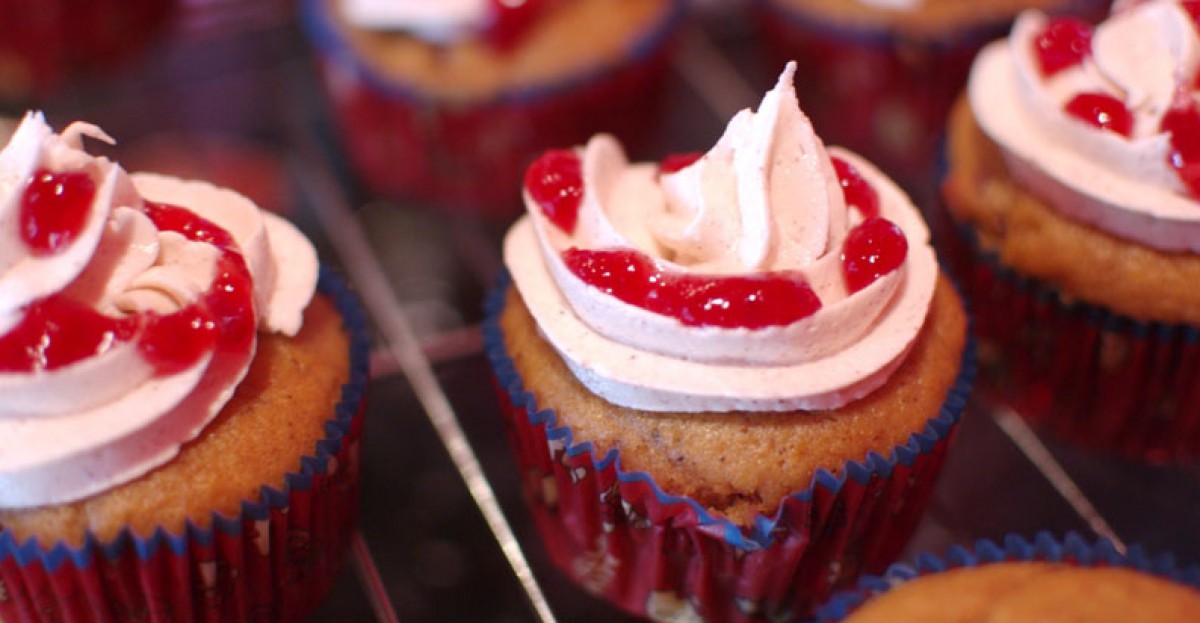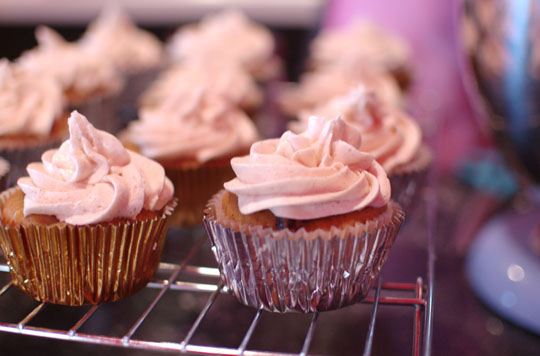 I'll be hosting a Thanksgiving dinner this year. Since this will be a first, a practice round was in order. I gathered some willing participants for this Thanksgiving-in-October over Columbus Day weekend. They made sides, my boyfriend and I did the turkey, dressing, and, of course, cupcakes.
I ran a poll on my Facebook Page to decide what to bake: What is your favorite fall ingredient? The top response was pumpkin (not surprised!), so I knew I had to include this classic fall ingredient in my Thanksgiving cupcakes.
I made the Pumpkin Cupcakes from Smitten Kitchen, though I gave them my own twist, adding cranberries to the batter. I love muffins with fresh, whole cranberries that burst as you bite through, but I couldn't find any fresh cranberries. I used a dried version, so no bursting, but they did give a little something to the cupcakes.
Smitten Kitchen's version uses maple icing, but I was set on doing cinnamon. I'd wanted to keep it subtle, so I used half a teaspoon of ground cinnamon in what was probably about a batch and a half of vanilla buttercream. Well, I can't quite imagine it being more cinnamon-y. Subtle, it was not!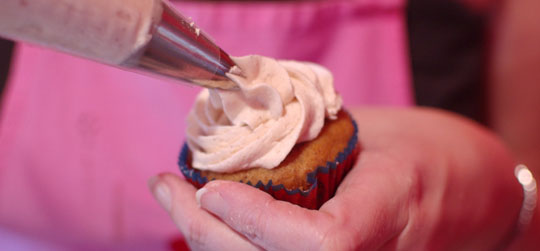 Because I'd skipped the maple-cream cheese frosting in favor of the cinnamon buttercream, I considered drizzling maple syrup over the top. However, I decided that would be too sweet. When I tasted the plain cupcake, I knew what I needed—more of the tangy cranberry taste!
I let a handful of dried cranberries soak in hot water (just enough to cover) for about 30 minutes, then took my hand blender to them. I added this to 1/2 cup of sugar, a tablespoon of cornstarch, and some lemon juice, cooking until it thickened. I let it cool, then put it through a strainer.
I imagined drizzling the syrup artfully over the cupcakes, but it was a little thicker than I'd anticipated. Perhaps I should have skipped the cornstarch for this purpose, or used less. I first tried pouring the cranberry syrup from a pitcher, but it was just too thick. Spooning was worse. I finally settled on pushing through a small funnel.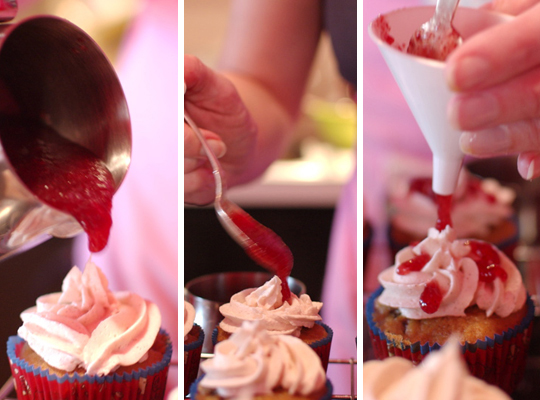 At any rate, I managed to get the syrup/sauce on my iced cupcakes. And I have a nice amount of cranberry syrup leftover, ready to go on pancakes or ice cream! Or more cupcakes…
I worried there would be too many components, but the sweet spiciness of the icing and cake melded well with the tangy sweet cranberry. I recommend giving these cupcakes a try, if you want an alternative to pumpkin pie at your Thanksgiving meal!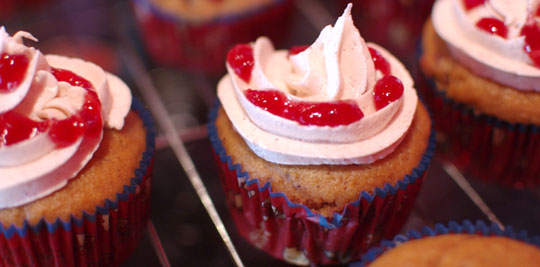 The day for "Fakesgiving" turned out to be unseasonably warm, I believe it hit the mid-80s. Not out of the ordinary in my home state of Louisiana, where I sometimes wore shorts to pick out my Christmas tree, this is unusual for New York. Hopefully the real Thanksgiving will be more seasonable.
Happy fall!