NYC Cupcake Crawl I: Magnolia Bakery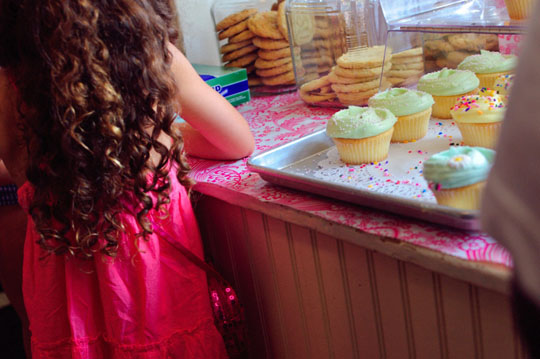 I can't bake all the time, and sometimes it is nice to enjoy cupcakes baked by someone else! I'm also interested in what other people are doing, what established bakeries–big names and the little guys–are creating and selling, and what their shops are like.
I decided "Cupcakes by Amélie" needed to start doing Cupcake Crawls! My plan is to do these regularly, tackling one New York neighborhood at a time. I may expand beyond NYC eventually, but there is an unbelievable number of places to start here.
I settled on Greenwich Village as my first crawl location. You can see our route here.
Stop #1

Magnolia Bakery
401 Bleecker St.
www.magnoliabakery.com
Magnolia is famous. It's been featured in TV series, movies, talk shows. It's been credited by some with starting the current cupcake craze. It seemed a natural place to start my crawl.
At the original Magnolia on Bleecker, where we stopped, you wait in line–there is almost always a line–then pack up your own treats from the cases. One of my cupcake crawlers noted her dislike of this self-serve system, especially the tendency of customers to lick frosting off their fingers mid-selection. Let's just hope everyone buys what they touch.
We went for a classic Vanilla (yellow buttercream with sprinkles) and a S'mores.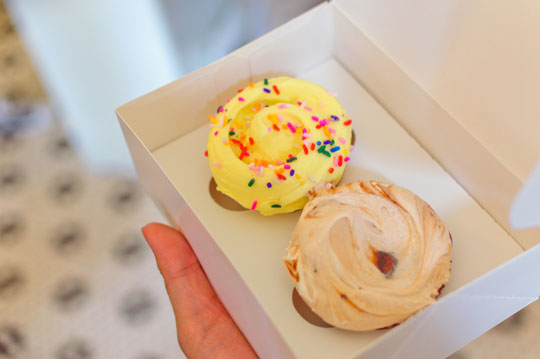 The main complaint I hear of Magnolia's cupcakes is that they tend to be dry and that the frosting is overwhelming sweet. We found the over-sweetness to be true of the vanilla buttercream (one of my tasters claimed it made the back of her jaw hurt), and the graham-flavored cake of the S'mores was very dry. The vanilla cupcake was not as dry, however, and the marshmallow/chocolate topping of the s'mores cupcake was not any more sweet than you'd expect. The vanilla cupcake was pretty good, not remarkable. The S'mores was tasty, but we didn't think it quite hit the mark of tasting like a s'more. We say it needs more chocolate and more marshmallow! One cupcake crawler noted that he'd like it more if it were less dry. Another crawler just smacked her lips and smiled.
I think the problem with Magnolia is that they can't live up to the hype. Who could? Their cupcakes are good, but they aren't magical. Anyone expecting them to be will be disappointed after the build up. Most people go to Magnolia for the experience, and that, honestly, isn't about how the cupcakes taste.
Magnolia sells all sorts of other goodies, too. The banana pudding is supposedly to die for. Next time I stop by, I will try one of their non-cupcake offerings.
Have you visited Magnolia Bakery on Bleecker? I'd love to hear your comments.
Stop #1 | Stop #2  |  Stop #3 | Stop #4 | Stop #5
Many thank yous to Doug, Jill, Stephanie, Beth, and, as always, my photographer and boyfriend Jason for joining me on the very first Cupcakes by Amélie Cupcake Crawl! I hope the sugar high didn't make you do anything outrageous later.
More photos from this post can be found in the Photo Gallery!