NYC Cupcake Crawl I: Milk & Cookies Bakery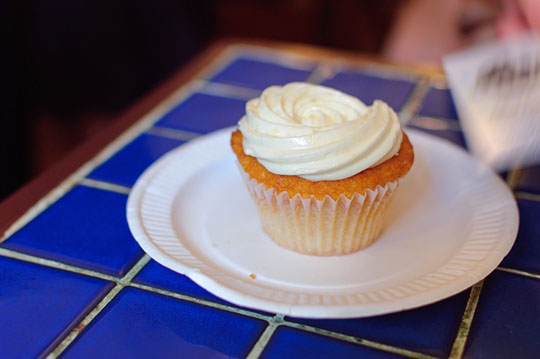 I can't bake all the time, and sometimes it is nice to enjoy cupcakes baked by someone else! I'm also interested in what other people are doing, what established bakeries–big names and the little guys–are creating and selling, and what their shops are like.
Stop #2
Milk & Cookies Bakery
19 Commerce St.
www.milkandcookiesbakery.com
Milk & Cookies is known for, well, cookies. They make sandwiches of their cookies and ice cream, and they are quite good. See the menu. We loved the one we sampled, a Penguin. However, this was a cupcake crawl, so let's put all thoughts of ice cream sandwiches aside (go try one!).
Milk & Cookies also has cupcakes, displayed in a glass cake stand on the counter. We selected their Crème Brûlée Cupcake to taste and settled down at a couple of the blue-tiled tables.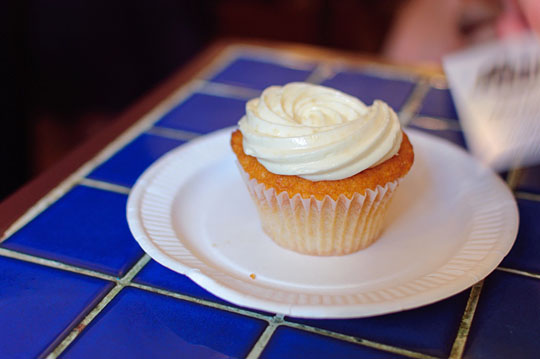 Our group was the only one in the shop, which was nice after the crowd at Magnolia. We took the opportunity to sit for a while, savor the sweets, and load up on much-needed water. The friendly guy behind the counter, who was inexplicably wearing an Iron Man mask, cut our purchases into six pieces for us, something that was a challenge elsewhere. (Magnolia didn't even have knives. I had to work with a wooden coffee stirrer and a fork.)
The Crème Brûlée cupcake was good, especially the light, creamy icing. One of my tasters called the cake a little heavy. I would say it was dense, but not unpleasantly so. The icing, on the other hand, was light, and it was a good balance. It was a nice cupcake, all around.
I'll certainly return to Milk & Cookies, a cute place with tasty sweets on a pretty Village street.
Have you been to Milk & Cookies Bakery? I'd love to hear your comments.
Stop #1 | Stop #2 |  Stop #3 | Stop #4 | Stop #5
Many thank yous to Doug, Jill, Stephanie, Beth, and, as always, my photographer and boyfriend Jason for joining me on the very first Cupcakes by Amélie Cupcake Crawl! I hope the sugar high didn't make you do anything outrageous later.
More photos from this post can be found in the Photo Gallery!