Never thought you'd be reading about meat and potatoes on a cupcake blog, huh?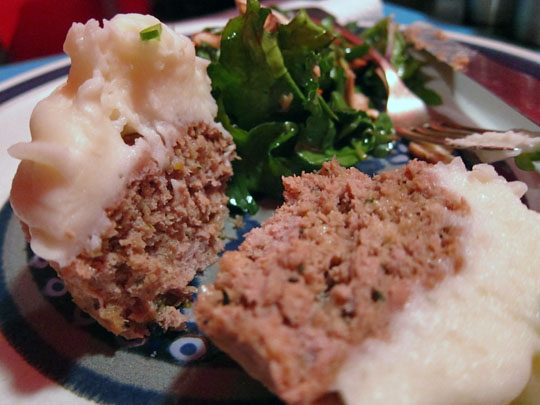 I attended TechMunch, a conference for food bloggers, here in New York. One of the sponsors was the Idaho Potato Commission. They held a drawing, and I was one of the lucky winners. What did I get?
20 pounds of potatoes…
I live alone. I sometimes cook with my boyfriend or for other friends, but really, what was I going to do with 20 pounds of potatoes?!
I made potato salad, baked potatoes, and mashed potatoes. I made three kinds of soup including potatoes (with radishes, with radish tops, regular potato). I made hash browns and fries. However, I knew that I'd have to do something cupcake-y for this blog.
I'm not a red meat eater, so I looked for a turkey meatloaf to make my meatcakes. I went with Ina Garten's recipe, which has gotten a lot of good feedback online. Ground turkey can get dried out when using it in recipes meant for beef or other meats with higher fat content, so reading that this recipe resulted in a juicy loaf was appealing. I made 1/3 of this recipe, which gave me 9 "cupcakes." The only change was to use about 3 tablespoons of ketchup instead of the 1/2 teaspoon of tomato paste it called for, but I did not put any on top. (I used Heinz's organic ketchup, which is made from organic ingredients including sugar instead of high fructose corn syrup.) Cooking time in muffin tins was about 35 minutes.
For the "icing" I made mashed potatoes. I peeled 4 of my winnings and boiled with a few peeled cloves of garlic for 25 minutes. I mashed and added butter and half & half and salt. I then puréed with my hand blender (usually to be avoided, I hear, to prevent rubbery mashed potatoes) to get smooth potato icing I could pipe. I topped with green "sprinkles" (chopped garlic scapes).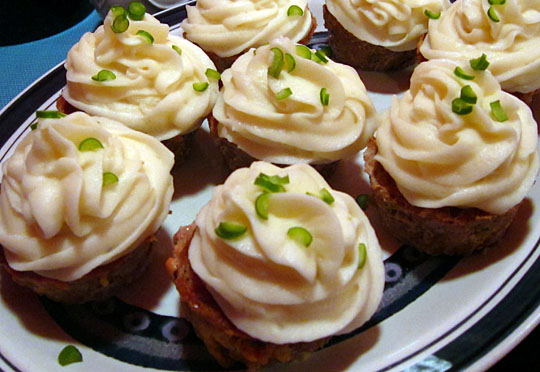 Thank you, Idaho!
Did You Know?
Potatoes, along with carbs in general, have gotten a bad rap in recent years. Yes, overindulgence can be a problem, but your body actually needs carbs. It is still a food group, even if it shouldn't be your main food group (see the new food pyramid).
Also, potatoes have lots of Vitamin C, Potassium, and Vitamin B6, something I didn't really realize before I looked it up. One potato has over 45% of your daily recommended value of each of these!
It is important, though, to eat the skins! That's where you get a lot of the goodness. (I often leave the skins on when making mashed potatoes, but I removed them this time to get more of that icing look and feel. I never claimed my cupcakes were healthy, though, right?)