German Chocolate Cupcakes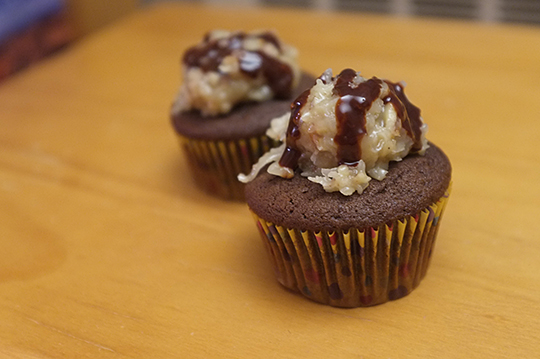 I arrived at the party with an all-in-one dessert and cocktail conversation topic!
Did you know that German chocolate cake is not German at all? It's actually American. The first recipe for German Chocolate Cake appeared in a Dallas, Texas, newspaper in the 1950s. It used Baker's German's Sweet Chocolate, which was developed by a guy named Sam German in the mid-nineteenth century.
The party was a housewarming/birthday event, and the honoree requested something with coconut. I'd never done German Chocolate Cupcakes before, so I gave it a shot.
The coconut pecan frosting was my biggest challenge. I tried a recipe that used eggs and ended up with custard. I did it again without the eggs and got more what I was expecting.
I used a small ice cream scoop for the topping, which was moist enough starting out.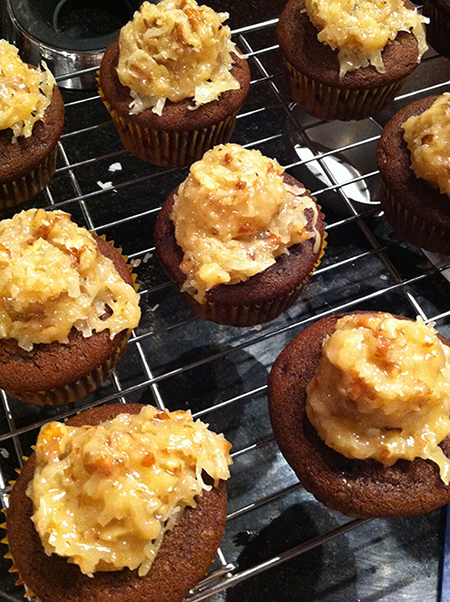 I added a chocolate ganache drizzle to finish them off. It was my first use of my new squeeze bottles. It's certainly much easier than other methods I've tried.
By the time I reached the party, the topping was more the consistency of candy. It hardened and could be popped off and eaten separately. Call it a bonus!