Sugar Rush for Relief: Nov 21, NYC
Attention, New Yorkers! No need to bake for Thanksgiving, we have dessert covered. Here is your chance to get your hands on a batch of Cupcakes by Amélie and help raise money for the victims of Hurricane Sandy. The bake sale will be the day before Thanksgiving 1-6pm in Bay Ridge, Brooklyn, at Lutheran Elementary School, and all proceeds will go to New York Cares. Look for my pumpkin cupcakes, promised to treat your Thanksgiving guests right! (And much, much more by other wonderful bakers, see below…)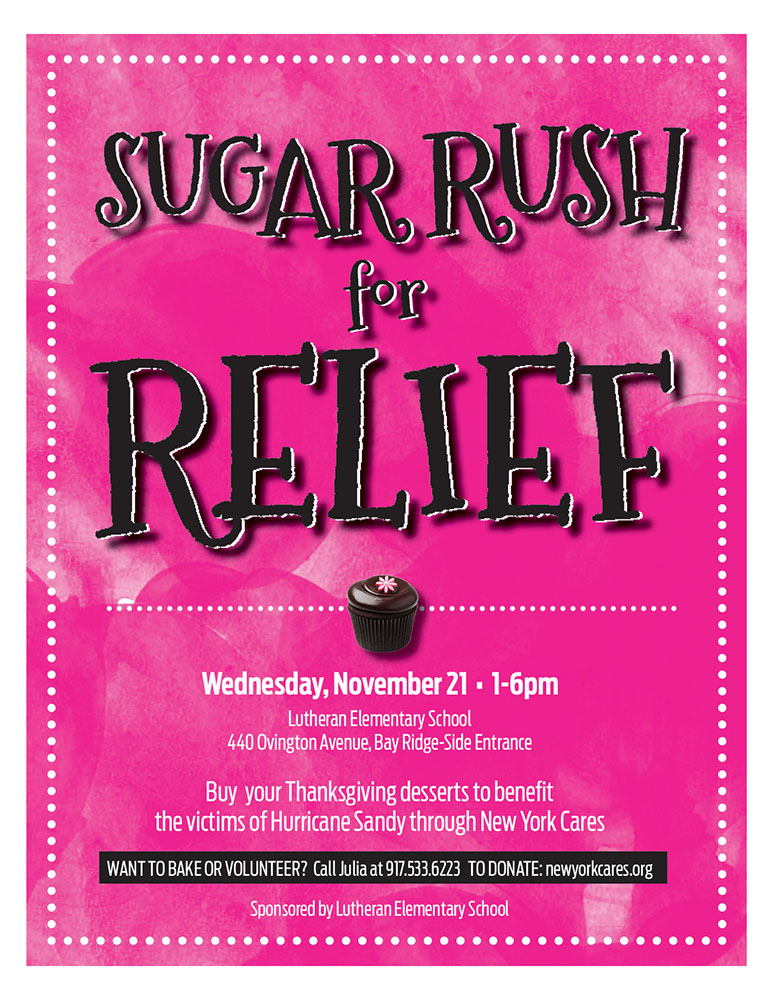 From Sugar Rush for Relief organizer Julia Donahue:
Calories for cause don't count! On November 21, Sugar Rush for Relief turns gratitude into action, offering the Brooklyn community a way to help their neighbors while stocking up on their Thanksgiving desserts. Sweets will be sold in batches that are baked by local volunteers and packaged ready to go straight to the holiday table. All proceeds will go to benefit New York Cares and the tremendous work they are doing to rebuild the community. It's baked goods to benefit Breezy, goodies for the good of Gerritsen, sweets for Staten Island and love for Long Island!
So, head to Lutheran Elementary School of Bay Ridge on Thanksgiving Eve (Wednesday, November 21, 2012) from 1-6pm and get your Sugar Rush!
Confirmed so far:
Apple Cheese Cake Bars
Apple Pies
Apricot Bars
Banana Bread
Blondies, Cranberry
Brownies
Cake Pops
Cake, Chocolate Frosting
Coffee Cake Squares
Cookies, Assorted
Cookies, Chocolate Chip
Cookies, Macadamia
Cookies, Ricotta Lemon
Cookies, Sugar
Cupa Cupa Cupa (Fruit Cobbler)
Cupcakes, Assorted
Magic Bars
Orange Bundt Cakes
Pies, Apple Crumb & Cherry
Pumpkin Cupcakes
Pumpkin Pies
Pumpkin Whoopie Pies
Red Velvet Cupcakes
Turkey Sugar Cookies