Travel Treats: San Francisco Bay Area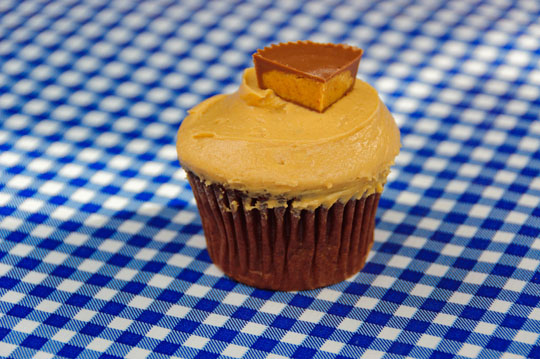 I've recently returned from a week of much-needed vacation in Northern California. Though I spent most of my calories on savory foods and fine wines, I did squeeze in a few cupcake tastings.
Berkeley
Love at First Bite
1510 Walnut St.
www.loveatfirstbitebakery.com
This cupcakery is tucked away with some other shops up a flight of stairs on Walnut Street in North Berkeley's "Gourmet Ghetto." I didn't plan on seeking out cupcakes during my vacation, but when they appeared in my path, how could I resist? A friend had mentioned Love at First Bite, but we really did just happen upon this sign when walking around Berkeley.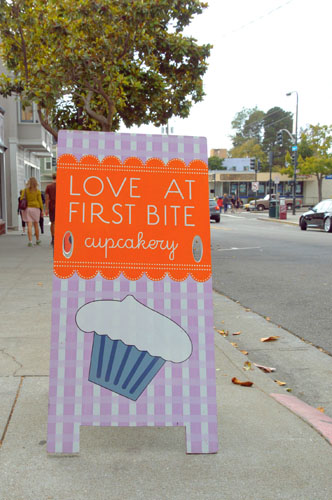 It was hard to choose, but we'd just had wonderful sandwiches at La Note, so we picked one to share, the PB Affair. It's a Devil's Food cake with peanut butter buttercream frosting and a Reese's Peanut Butter Cup on top.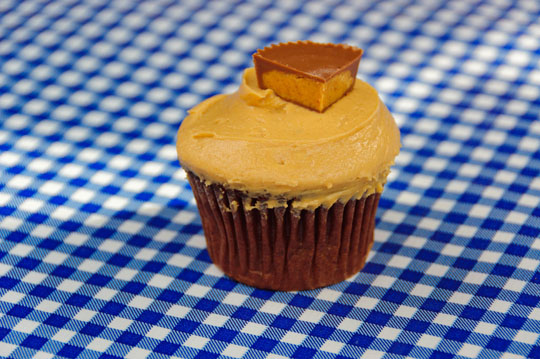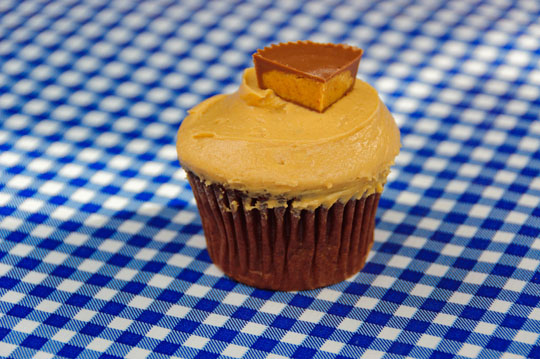 The cake was definitely moist, but it was not very chocolatey by itself. The peanut butter frosting, however, really brought out the chocolate flavor (when it wasn't sticking to the roof of my mouth in classic peanut butter style). The best bite I had was the one with a piece of the Reese's Peanut Butter Cup. It had a saltiness of which the cupcake itself could have used more.
The store was cute and doing a brisk business selling cupcakes and cupcake paraphernalia. The only seating was outside, but we were in California, after all.
San Francisco
Kara's Cupcakes
3249 Scott St.
www.karascupcakes.com
Lucky me came back one night during my stay in San Francisco to a sampler from Kara's, courtesy of our generous hosts! This popular bakery, which uses locally sourced ingredients, has five locations in the Bay area. I even spotted some at the airport (Napa Farms Market, Terminal 2).
Our spread included the Cookies & Cream, Banana Caramel, Peanut Butter Milk Chocolate Ganache, Sweet Vanilla, and Vanilla Chocolate.  Though Cookies & Cream was the "Flavor of the Month," we did not find it that flavorful. The Banana Caramel, a caramel-filled banana cake with cream cheese frosting, was our favorite. The banana and the filling made it lovely and moist.
Kara's also offers gluten-free cupcakes, which get rave reviews. I didn't try them, but I've heard they're some of the best of their kind. My friend Julie, one of our hosts and fellow midnight cupcake snackers, had this to say:
Kara's gluten free cupcakes are some of the best I have had. I have had multiple conversations about their practices in the kitchen to ensure that they keep the gluten away. I found out during our most recent visit that if you give them notice (24 hours) they will make flavors other than the vanilla and chocolate they keep on hand. There is no minimum to these orders, they will make just one for you if that's all you want. I've run into other places that require a minimum order.

The vanilla is by far my favorite of the two in taste and consistency. I love the look and feel of Kara's, it makes me feel like I am "normal" and can go to my favorite bakery and not worry about being gluten free!
Please leave a comment if you've sampled them!
Off Topic: Napa & Sonoma
I just cannot close this post without mentioning some culinary highlights of my jaunt to wine country. I don't eat red meat, but my boyfriend was near tears, moaning with joy at every bite of his Roasted Lamb Saddle at Bouchon in Yountville. I, on the other hand, loved the Wild Flounder at Sonoma's The Girl and the Fig. We were both charmed by the "fridge food" pairings (bites of cheese with truffle salt or hot pepper mustard, for example) at Williamson Winery in Healdsburg.