Travel Treats: Miramar Beach, Florida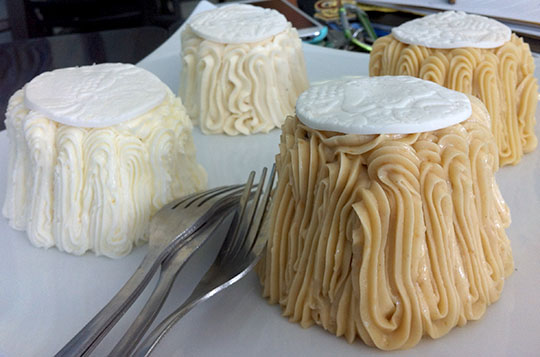 I took a special trip to the Florida Panhandle with my fiancé on a wedding-planning mission. We are getting married down there at Carillon Beach in October. What was my favorite part of the vendor meetings? Take a wild guess.
Miramar Beach
KaraBoo Bakery
10859 Emerald Coast Parkway West
www.karaboocakes.com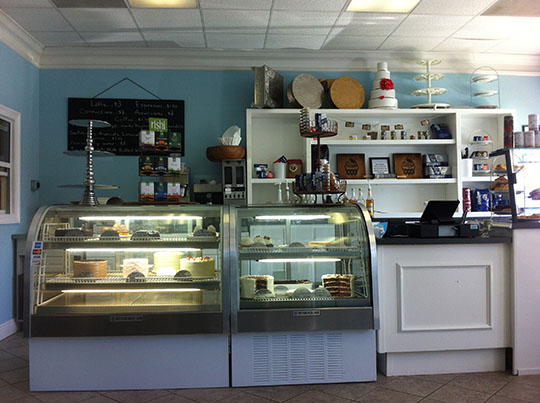 On the recommendation of the ever-helpful Avis of Carillon Weddings, we chose Kara Enache to be our wedding baker. Avis guessed I might be particular about what I wanted for our wedding cake, and when we arrived for our tasting, I knew she'd guided us well.
Kara had prepared some requested flavors for us to try, and we dug right in.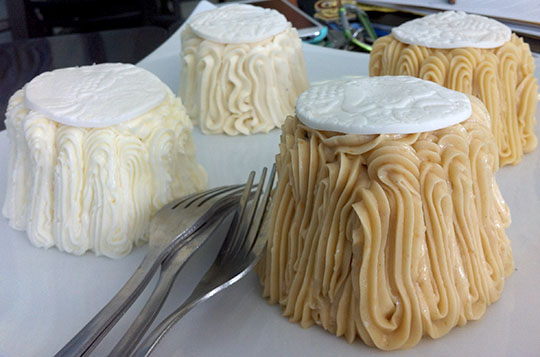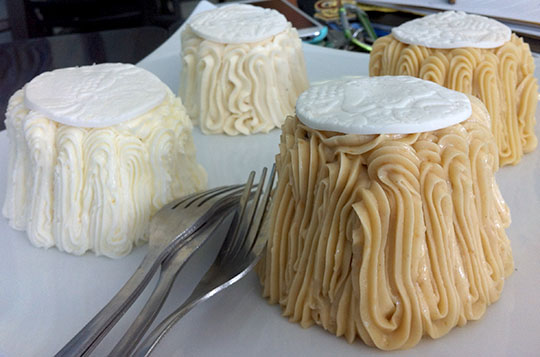 Here we have a lemon cake filled with blackberry with vanilla buttercream, a pumpkin cake filled and iced with a cinnamon nutmeg buttercream, vanilla cake filled with caramel with caramel buttercream, and black velvet cake filled with peanut butter cups and covered with peanut butter buttercream.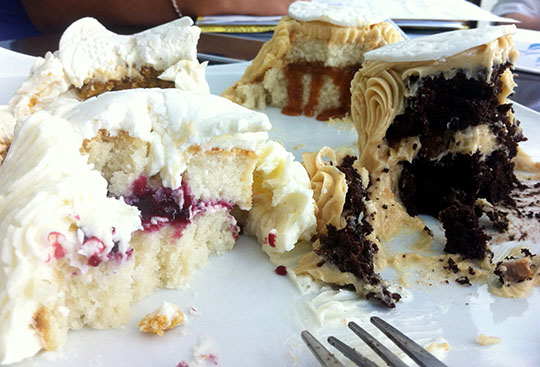 They were all pretty amazing. Luckily, we don't have to decide on just one! By having a traditional tiered cake and cupcakes, we've actually managed to work in five unique flavor combinations. We've made a few tweaks to the above, trusting Kara's expertise, and added a fifth. Here is what our guests have to look forward to:
Black velvet cake with peanut butter cup filling and peanut buttercream
Lemon cake with raspberry filling and lemon buttercream
Pineapple rum cake with coconut buttercream (a.k.a. Piña Colada)
Pumpkin spice cake with caramel sauce and caramel buttercream
Vanilla cake with vanilla salted caramel sauce and caramel buttercream
Yum. That's all there is to say.
Kara was great to work with. Adding the vanilla sea salt to the caramel is brilliant. I was also pleased with her grasp of our design concept and her own great ideas of how to implement it. I'm so excited to see—and taste—Kara's final creation! What will it look like? That's top secret until the big day.