Macarons by Amélie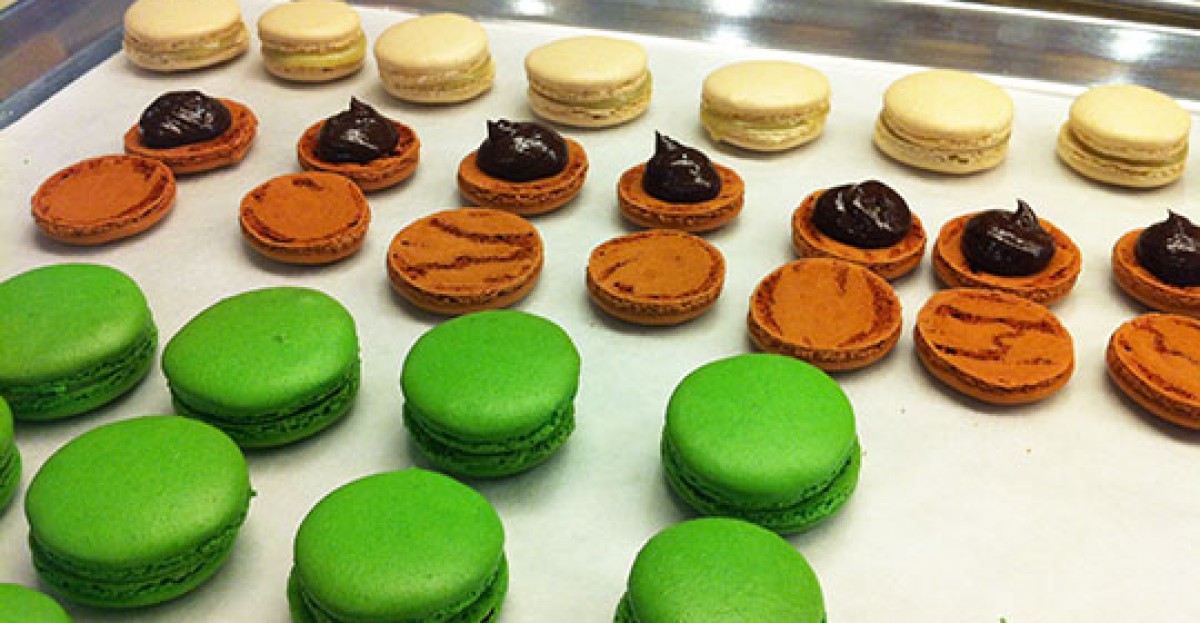 Baking cupcakes is of course my true passion, but it doesn't hurt to try new things in the world of baked goods! I've had friends and blog readers ask if I ever bake other sweets. Ok, ok, I do! I decided to try something different last weekend and signed up for a French Macaron Class at Mille-Feuille Bakery on LaGuardia Place in NYC.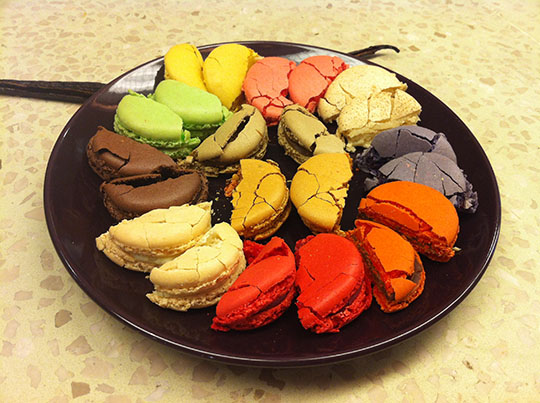 Macarons are made up of what are basically meringue shells with a variety of fillings. Most of the flavor actually comes from the fillings, which was a surprise to me. The color in the shell is usually just food coloring! Chef Olivier at Mille-Feuille did mention that the chocolate shells could be made by replacing 15-20% of the almond flour with cocoa powder, but we did not do that for this batch.
The shells contain just egg whites, almond flour, and sugar (both powdered and granular). We whipped the egg whites, then poured in heated sugar syrup. Mixed with the almond flour, powdered sugar, and food coloring, we had our batter.

Some of the tips we were given were to use aged eggs, not very fresh eggs, and to separate them ahead of time, letting the whites sit 2-3 days (refrigerated but brought to room temperature before using). Olivier also cautioned us not to buy pre-separated egg whites, that they are often not of high enough quality to ever whip to firmness.
What was different about making macarons versus making cupcakes? The main place that my skills led me wrong was in the piping. Piping icing on a cupcake, I move in circles, holding the bag at an angle and pulling up at the end, creating a nice peak. With macarons, in both piping the dough and the filling, you must keep your piping bag very steady, the tip the same distance away and straight up and down. You want a very smooth, even circle and no peak! A little variation is ok, I found, as the next step takes care of that. After piping the batter, you hit the bottom of the pan firmly (and loudly!) until they do smooth out into nice, uniform dots.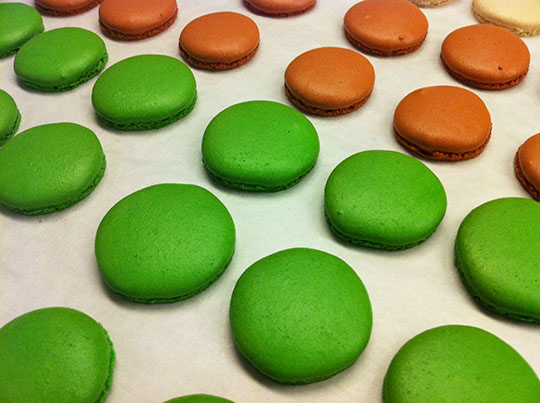 Next, you make the filling. You can make macaron filling from most any flavor you can imagine, but we stuck to chocolate, vanilla, and pistachio. All involve cream, and both the vanilla and pistachio used white chocolate. For the vanilla, we put in vanilla beans; to the pistachio we added pistachio paste. For the chocolate filling, we added chocolate, butter and honey to cream.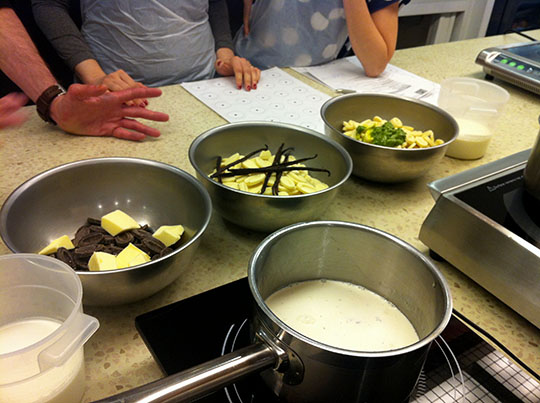 Match the baked shells by size, then pipe on your filling. Et, voilà! You have French Macarons.
Well, not quite yet. The macarons must be refrigerated for 18-24 hours to reach the desired texture and for the flavors of the shell and filling to combine. Olivier recommended they be taken out about 20 minutes before serving.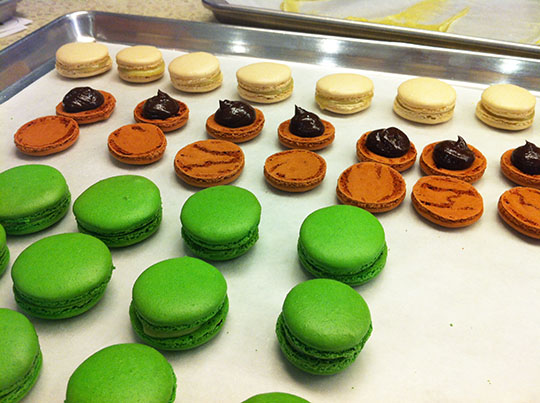 It was fun to try baking something different. I hadn't really known how macarons were made. I thought maybe some sort of mold was used? It was a lot easier than I expected! Yet they feel so…fancy. Tasty, though! They were not too pretty to eat.
Thank you to Vimbly for finding the macaron class for me and providing a discount for my baking adventure! Vimbly.com is a website that helps users discover and book activities like this baking class and many, many more fun recreations around New York City.