Dark and Stormy Cupcakes (Rum Ginger Cake with Lime Ginger Frosting)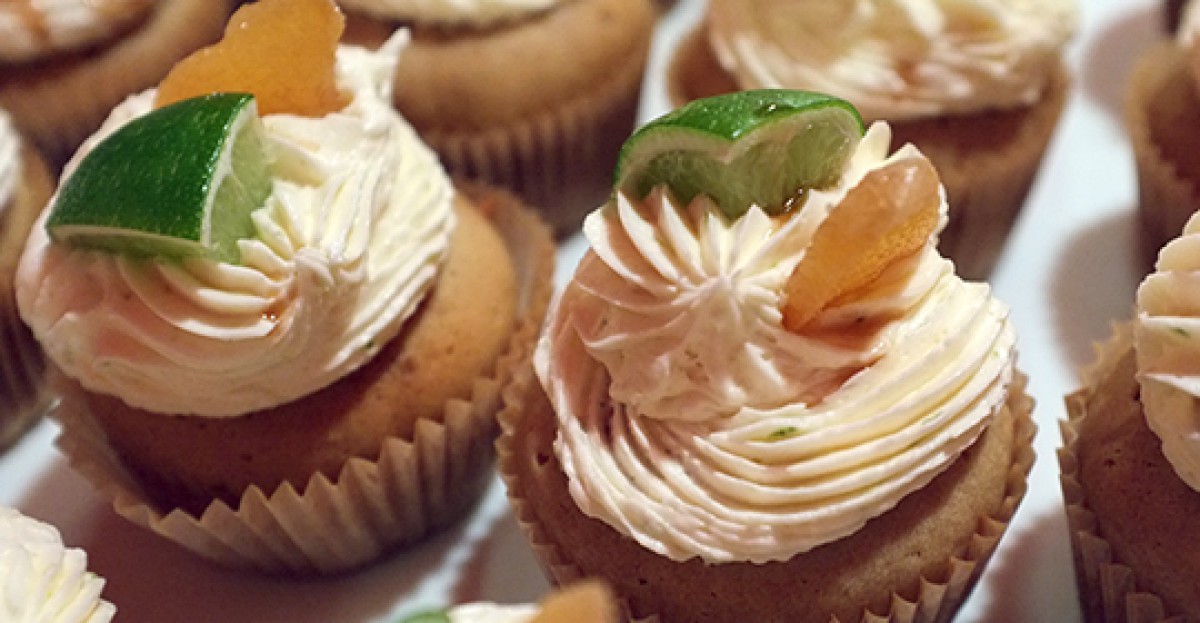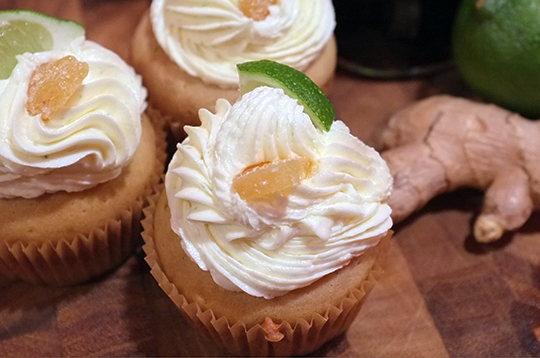 I wanted to make a cupcake version of a mixed drink for a cocktail party, and rum cake seemed a good place to start. My great-grandmother made rum cake, and it would often show up on our Christmas Eve dessert buffet. I fondly remember its buttery slightly exotic taste. Adding ginger to rum cake batter to stand in for ginger beer and topping with lime and more ginger, I made a cupcake "Dark & Stormy" (the cocktail is made with dark rum, ginger beer and lime).
They were well received by the cocktail party crowd. Rum cake is traditionally made in a Bundt pan, and it is denser than regular cake. I forgot this at first and was upset that these cupcakes came out dense. Someone at the party reminded me of that (and also said that the cupcakes were perfect, so surely a reliable source)!
I added a fresh lime wedge and crystallized ginger after I frosted these, completing the "cocktail" (caketail?). See recipe and notes below!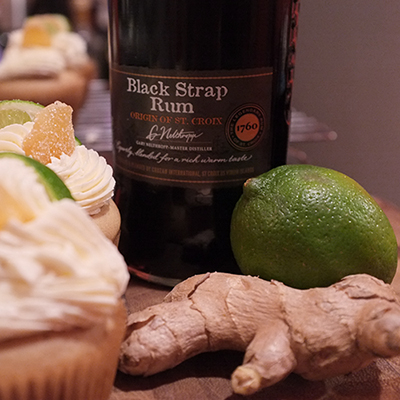 Recipe Notes
I had fresh ginger, and it really seems the way to go. Note, you can use more than I used above for a stronger ginger taste. Using ground dried ginger will be a different taste. It's a little like making a dark and stormy cocktail with ginger ale rather than ginger beer. If you must substitute, use 1/4 teaspoon dry ginger in the cupcakes and probably less than 1/8 teaspoon in the frosting.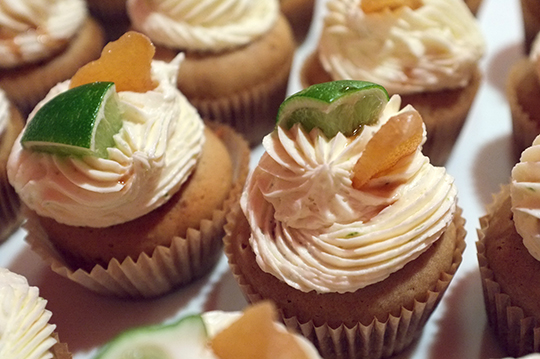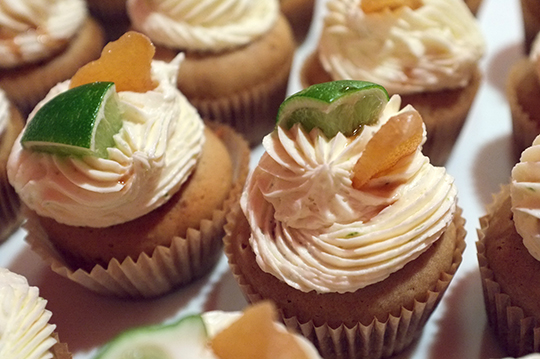 Recipe:
Rum and Ginger Cupcakes (Dark and Stormy)
Makes 2 dozen cupcakes
1 1/4 cup dark rum
1 1/2 sticks unsalted butter
1 cup sugar
2 1/2 cups flour
1 1/2 teaspoons baking soda
3/4 teaspoon salt
1 tablespoon grated fresh ginger
2 large eggs
3/4 cup sour cream

Preheat oven to 350°
Bring rum and butter to a simmer in a large saucepan over medium heat. Turn heat off and let cool. Add sugar to mixture and whisk to combine.
Sift together flour, baking soda, and salt, then mix in grated ginger.
Combine the eggs and sour cream on medium speed in a mixer with the whisk attachment.
Slowly add cooled rum mixture to the egg mixture and combine on medium-low speed until incorporated.
Add the sifted flour mixture in thirds to the rum-egg mixture. Scrape down sides to make sure you get all ingredients combined.
Place 24 cupcake papers in pans and fill each about 2/3. Bake for 18-24 minutes (turning halfway through) or until the tops are firm to the touch. Let cool in pans on wire rack for 5 minutes, then remove from pans and let cool completely before frosting.
Optional: Dribble a teaspoon of rum over each baked cupcake when you take them out of the pans. I also added a few drops on top after frosting.