Blueberry-Peach Cupcakes with Whipped Cream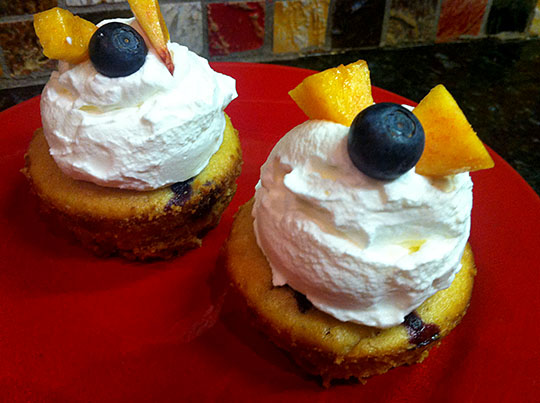 For these cupcakes, I baked with peaches from my mother's orchard (she and my stepfather grow figs, lemons, and peaches on their cattle ranch in Winnsboro, Louisiana) and blueberries from Pop's Blueberry Patch (north of Ruston).
I used the recipe from my previous peach cupcakes as a guide, but added blueberries and a little peach schnapps (because…well, why not?). Also, because my mother only had self-rising flour, I left out the baking powder and soda. Self-rising flour also includes salt, which wasn't called for in the recipe. A little salt can bring out flavor, though, so I hoped for the best! (It all worked out just fine.)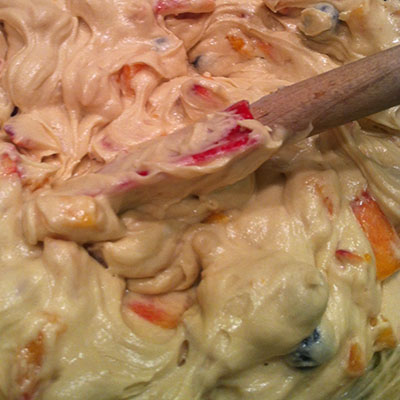 My mom did not have any baking cups, either, so I put the batter directly into greased muffin tins. My main challenge there was that I had to wait for them to cool completely before removing, as attempts to remove after 5-10 minutes as I normally do resulted in their coming out in pieces. (That of course had to be eaten immediately, darn…)
I added peach schnapps to heavy cream and whipped it up for the topping. A half scoop of this spiked whipped cream went on each cupcake.
They were a tasty dessert, but also not too-too sweet for breakfast the next morning.