Hot Valentine Cupcakes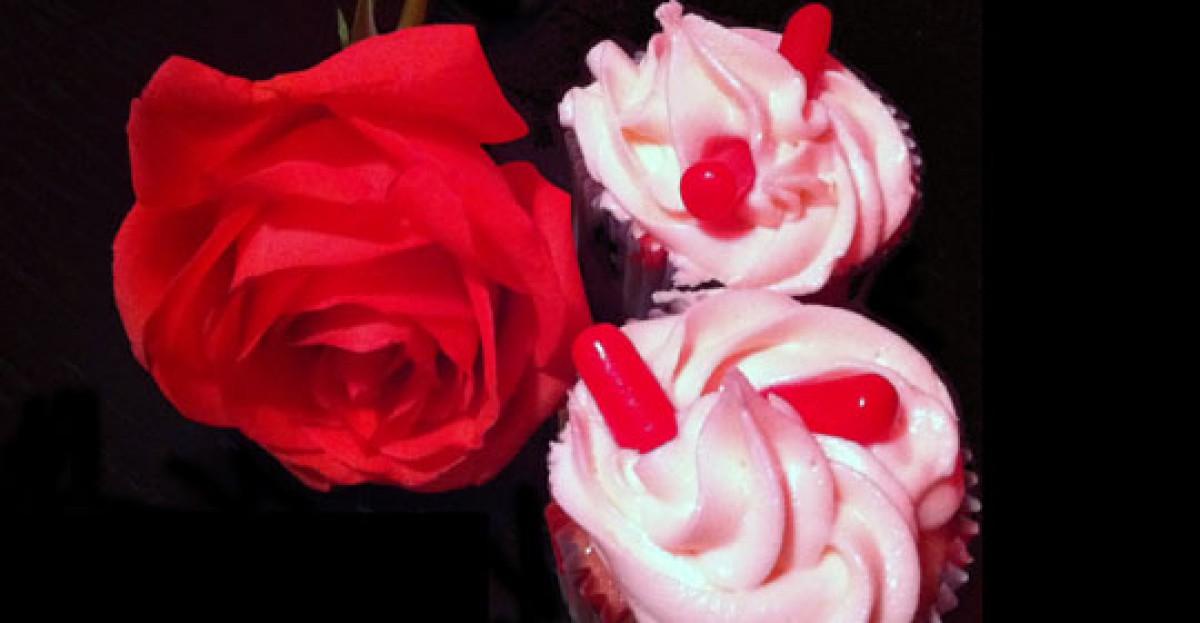 My Valentine requested cupcakes with Red Hots, but there were none to be found. Really… Was there a run on Red Hots in Brooklyn? I had to switch gears, so I purchased a store-brand bag of cinnamon discs (individually wrapped hard candies) and a box of Hot Tamales!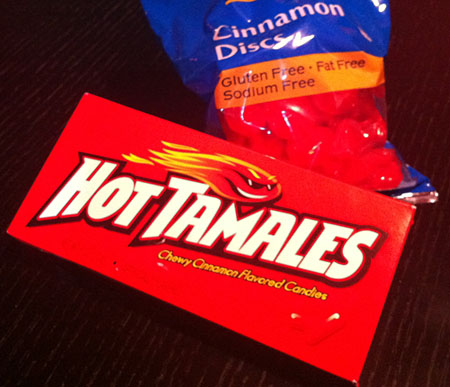 How to get the "hot" flavor in the cupcakes? I just didn't know what to expect if I put Hot Tamales in the batter, so I went another route. I crushed cinnamon discs in a baggie with a hammer (now that's what I call fun!) and used them instead of about half the sugar in my vanilla cupcake recipe.
I put the crushed cinnamon discs in with the sugar and butter when creaming, then proceeded as normal. The candy powder and pieces were not melding with the rest, so I let the batter sit about an hour before giving it a last mix and scooping it into the tins to bake. The time I let pass allowed the color and flavor of "cinnamon" seep into the batter for a more cohesive look and taste.

Then for the frosting… I was avoiding using any real cinnamon in these cupcakes, as I wanted to get the real fake taste of "red hot" candy right! I opened up my box of Hot Tamales with an idea.
Fun fact: Hot Tamales will burn before they melt! I cooked them on the stovetop, keeping them at a low-medium temperature with a little water, but only the outer shells melted. Sure, ok, it was partially my fault for turning away for 2 seconds, but I'm calling trying to melt Hot Tamales a "Bad Idea."
What did work, to some extent, was simmering a couple of cinnamon discs in about 1/3 cup water, letting them dissolve. I added some of this liquid to the icing, otherwise a regular vanilla buttercream, which added a little flavor and color. I could have made it stronger, but I was scared. (As as aside, I also set some mac and cheese on fire about the same time. Oops.)
Once I had piped frosting on the cooled cakes, I added—finally—two Hot Tamales.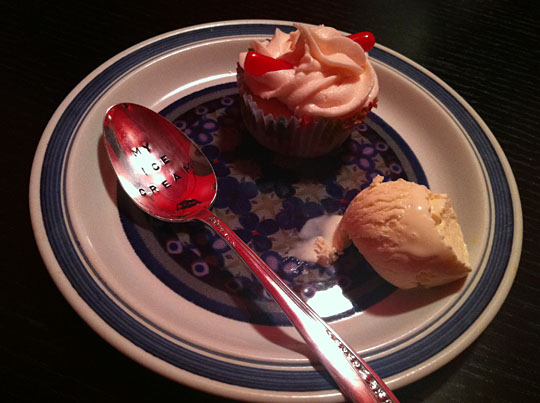 I served the cupcakes to my Valentine (and me!) with scoops of vanilla ice cream. Some lucky Webgrrls enjoyed the extra cupcakes at a workshop the next evening!
They did not taste terribly spicy, but they had a little of that red-hot kick, I'd say. I'll let my tasters comment!
*This lovely hand-stamped vintage spoon, part of a pair (the other says "Your Ice Cream"), is from Beach House Living.