Lime Cupcakes with Momélie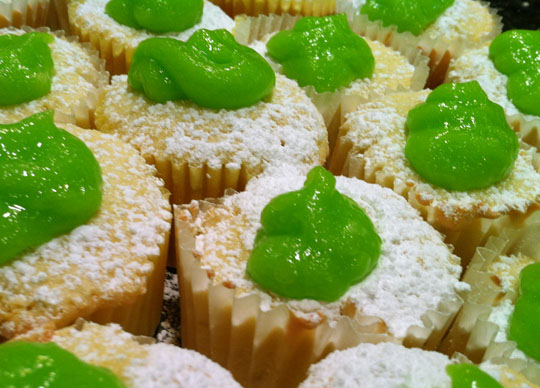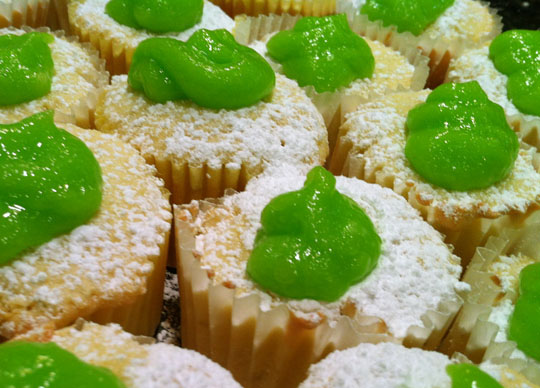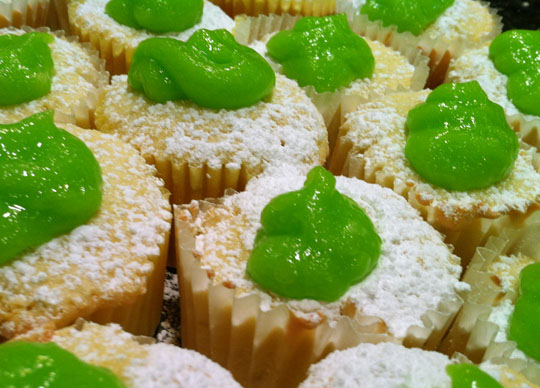 My mother and I had a bag full of limes and a craving for something sweet. The cover of an old magazine on her coffee table featured a beautiful lemon pie. The lemon cupcakes with lemon curd (another Martha Stewart recipe) I made for a friend's birthday a few years ago popped into my head. "Surely I can do that with limes…"
We got on our aprons and set to work! Mama started zesting and juicing, I began mixing the batter.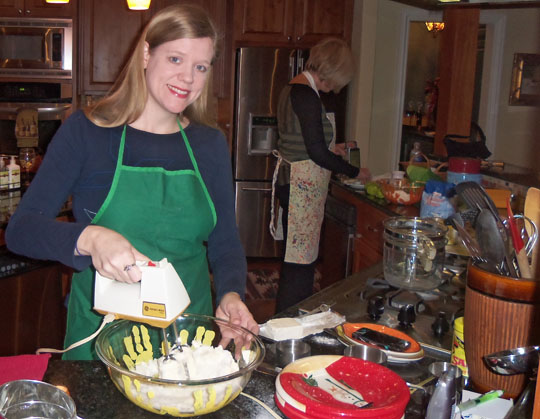 When it was time to separate the eggs, Mama had a surprise for me. Thank you to Kent of Follette Pottery for this amusingly disgusting gift to my mother, a nose (and ear and throat) doctor.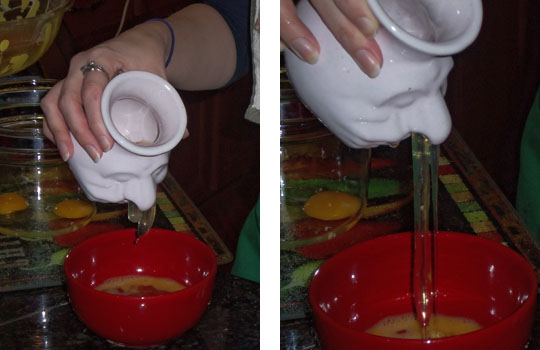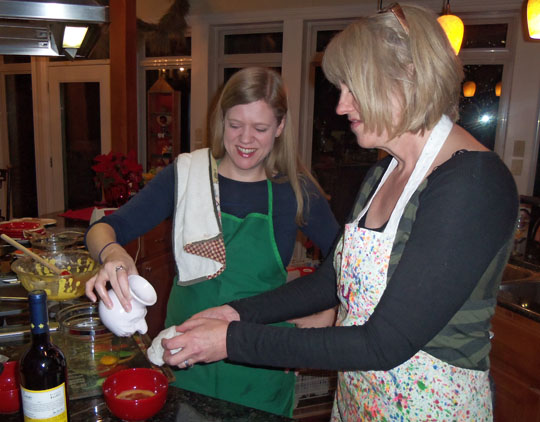 The lime curd was very yellow from the yolk. I added a drop of green food coloring. It looked awful, more slime than lime. I added a second to make it scream, "Lime!" (Or maybe… "Alien slime!")
Martha Stewart's recipe instructs inserting a pastry tip into the cupcake while piping to get curd in there. I didn't have a pastry bag or tips, so I settled for a plastic baggy.  Since that wasn't going to force any curd into the cupcake itself, I poked a hole about halfway in using the rounded end of a wooden honey dipper, which seemed about the right size (you might use a wooden spoon or similar implement). I dusted the cupcakes with powdered sugar, then piped lime curd into the holes, pooling more on the tops.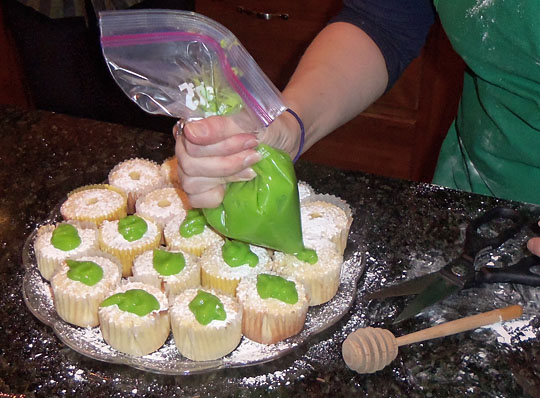 They tasted sweet and tart with a lovely lime flavor—delicate in the cake, strong in the curd.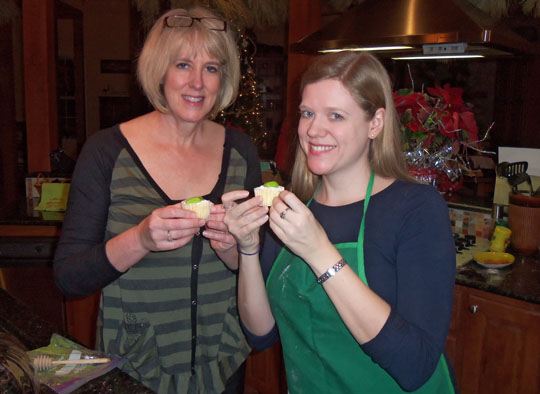 Below are my modified ingredients to make these lime beauties. I halved the original recipe, which makes a huge amount! Find the full recipe (with lemons) in Martha Stewart's cupcake cookbook, it isn't available on her website. For the recipe online, see 52 Cupcakes or iVillage.
For 21 cupcakes
1 1/4 cups flour
1 tablespoon lime zest
1 tablespoon lime juice
1/4 teaspoon baking powder
3/4 teaspoons salt
1 1/4 sticks unsalted butter
1 1/2 cups sugar
4 oz. cream cheese
3 1/2 large eggs
1/2 teaspoon vanilla extract
powdered sugar
For plenty of lime curd
1 whole egg
4 egg yolks
1/2 cup sugar
1/3 cup lime juice
1 tablespoon unsalted butter
green food coloring (optional)