NYC Cupcake Crawl I: Sweet Revenge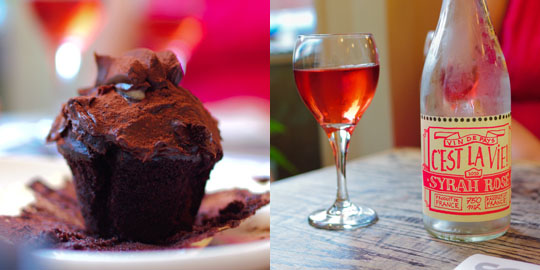 I can't bake all the time, and sometimes it is nice to enjoy cupcakes baked by someone else! I'm also interested in what other people are doing, what established bakeries–big names and the little guys–are creating and selling, and what their shops are like.
Stop #5
Sweet Revenge
62 Carmine St.
www.sweetrevengenyc.com

The menu lists their cupcakes, each paired with a beer and a wine. At the end of the crawl, we decided we could handle only one more cupcake.
We hadn't had much chocolate, so we chose the Dirty, a Valrhona chocolate cake with dark chocolate truffle icing. It was paired with C'est La Vie Rosé. We were unsure of the pairing, thinking chocolate needed a heavier wine, but we went with it.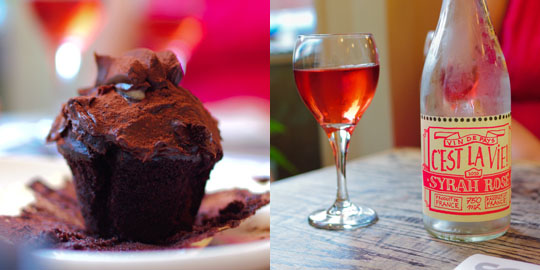 It was a spot-on pairing, the rosé and rich, dark chocolate complemented each other wonderfully. The cupcake was rich, but not "kill you" rich, described one taster.
It was a good place to end the crawl, relaxing with a glass of vino.
I'd like to go back to Sweet Revenge for Happy Hour sometime. They offer a glass of Sangria, Pinot Noir, or Sauvignon Blanc and a cupcake for $10, 4-8pm.
Have you been to Sweet Revenge? I'd love to hear your comments.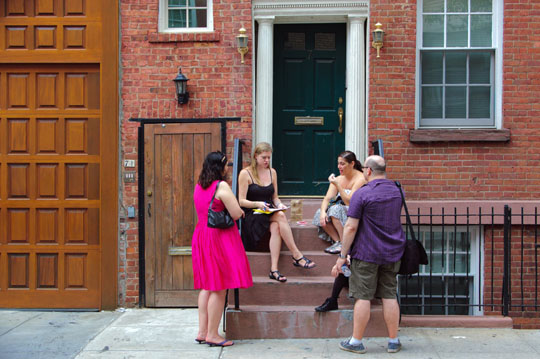 That's it for my first Cupcake Crawl! I'll be exploring other neighborhoods and bakeries in the future, feel free make suggestions.
Stop #1 | Stop #2 | Stop #3 | Stop #4 | Stop #5
Many thank yous to Doug, Jill, Stephanie, Beth, and, as always, my photographer and boyfriend Jason for joining me on the very first Cupcakes by Amélie Cupcake Crawl! I hope the sugar high didn't make you do anything outrageous later.
More photos from this post can be found in the Photo Gallery!