Cupcakes au chocolat et au vin rouge (Red Wine Chocolate Cupcakes)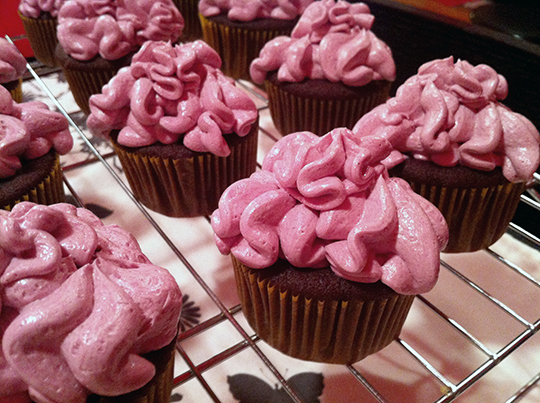 My New Year's Eve post involves baking with alcohol, which seems appropriate considering the revelry many will be up to tonight! Have a safe and happy NYE, everyone!
I was sad to learn that "cupcakes" does not translate to les petits gateaux ("little cakes") in French. Apparently, they are too American. They are just called les cupcakes. Nevertheless, what else was I to make for my French class's end-of-the-year party?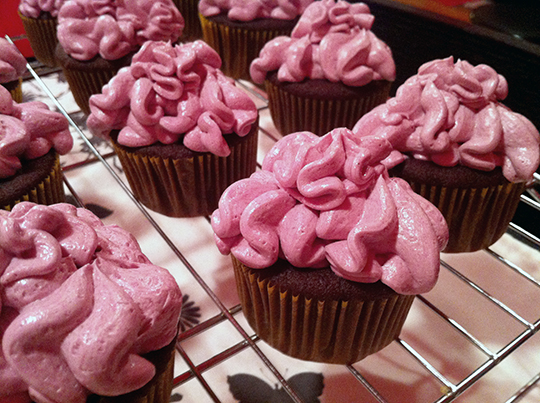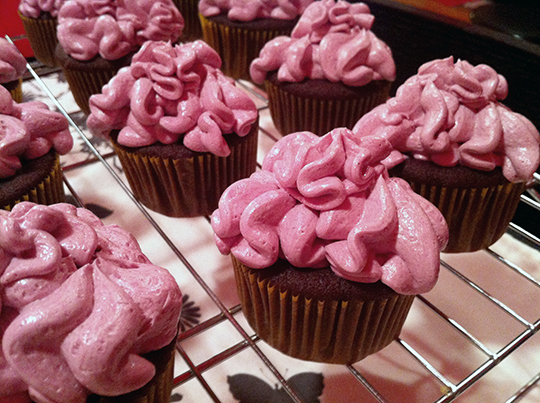 Since cupcakes are not French, I decided to add a little something to them that the French love—wine! You may not realize it, but chocolate and wine can go well together. Dark chocolate and cabernet sauvignon, for example, make a luscious pair. Many sweeter wines such as Moscato and port will even work with a milk chocolate.
The wine for these cupcakes, of course, had to be French. I turned to Gowanus Wine Merchants (www.gowanuswines.com, 493 3rd Avenue, Brooklyn, NY) to help me choose a fruit forward red wine that would pair well with chocolate. I also wanted to be able to enjoy drinking the rest of the bottle with my classmates, so I needed more than just a cooking wine. Co-owner Rick Lopez, who opened the store with Tom Hyland earlier this year, guided me to a bottle of Tramontane Carignan Noir, which fit the bill.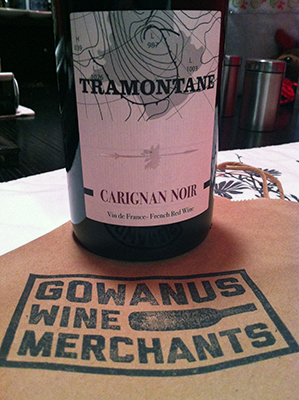 Wine went in both the cake and the icing. The recipe I used was close to this one from Sprinkle Bakes, though I used only cocoa in mine (and not Chianti!). I put straight wine into the batter, but I reduced a cup of le vin with sugar for the icing.
The cake didn't taste like wine to me, but I do think the wine enhanced the chocolate. There was a strong hint of red wine grapes in the icing, though, which was interesting. Good interesting… The cake itself wasn't very sweet, but the icing made up for that! One classmate commented that the cake tasted buttery, which I believe was a good thing, too.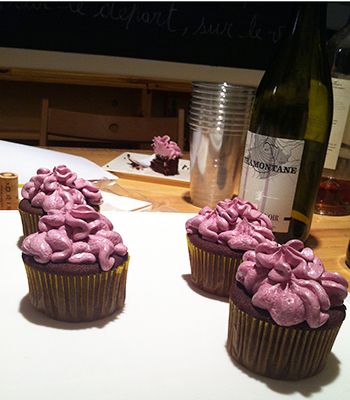 They were fun to make and definitely did not taste like your run-of-the-mill chocolate cupcakes. I think these would be great for many a special occasion.
I'm taking French at Idlewild Books, which has locations in both Manhattan and Brooklyn and also teaches Italian and Spanish. Learn more at www.idlewildbooks.com.