Recipe:
Chocolate Cupcakes
dessert
by
Amélie Walker-Yung
Makes about 18 cupcakes
1 1/2 sticks of butter
2/3 cup brown sugar
2/3 cup white sugar
2 eggs
2 teaspoons vanilla extract
1 1/2 cup sour cream, buttermilk or plain yogurt (or a combo)
2 tablespoons coffee (brewed)
1 cup cocoa powder
1 3/4 cups of flour
1 1/2 teaspoons baking soda
a pinch of salt
Preheat your oven to 350 degrees Fahrenheit. With an electric mixer, cream the butter and sugar for five minutes. Then, add the eggs, one at a time, and add the vanilla extract.
In a bowl, sift together the flour, the cocoa, the baking soda and the salt. In another bowl, mix the buttermilk, the sour cream (or yogurt) and the coffee.
Add the two mixtures to the bowl with the butter, the sugar and the eggs. It is best to alternate adding the dry and wet ingredients. Mix well.
Put the batter into muffin tins lined with cupcake papers. Bake them for 20 minutes. (Rotate after 10 minutes, check at 18 minutes.) Let cool in pans for 5 minutes, then remove to cool completely on racks.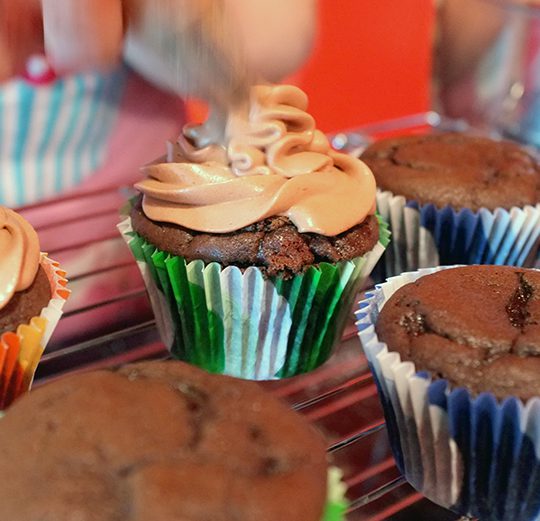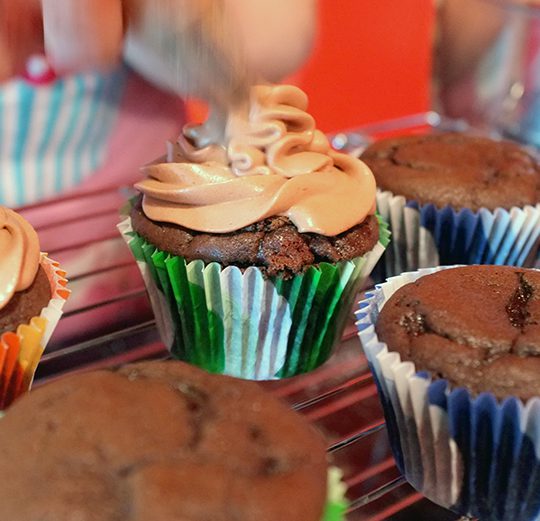 Read about this recipe in action: