Recipe:
Orange Mini Cupcakes
dessert
by
Amélie Walker-Yung
Makes about 36 mini cupcakes
1 1/4 sticks unsalted butter
4 oz. cream cheese
1 1/2 cups sugar
3 large eggs
1/2 teaspoon vanilla extract
1 tablespoon reduced* orange juice
1 1/2 cups flour
1 tablespoon orange zest
1/4 teaspoon baking powder
1/2 teaspoon salt
Preheat oven to 350 degrees F. Line mini muffin tins with paper cupcake liners.
Cream the butter, cream cheese and sugar at medium speed, then reduce to low. Add the eggs one at a time, then add the orange juice and vanilla extract.
Sift together the flour, baking powder, and salt. Add the orange zest to the flour mixture. Incorporate the dry ingredients gradually into the wet ingredients, mixing until just combined.
Scoop batter into lined muffin tins (I use a size 50 ice cream scoop for minis). Bake 5-6 minutes, rotate, then bake another 5-6 minutes. Baking time may vary, so keep an eye on them!
Cool in pan for 5 minutes, then remove to racks to cool completely before frosting.
*Start with 1/2 cup fresh orange juice and simmer until reduced by half. This will give you enough to make these cupcakes and their frosting. (You could also probably use thawed concentrate.)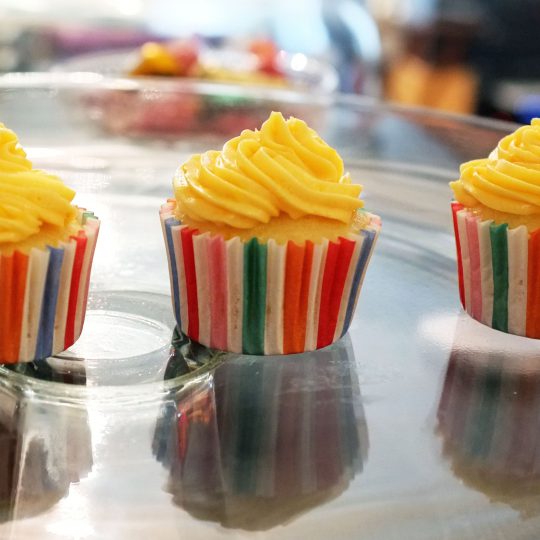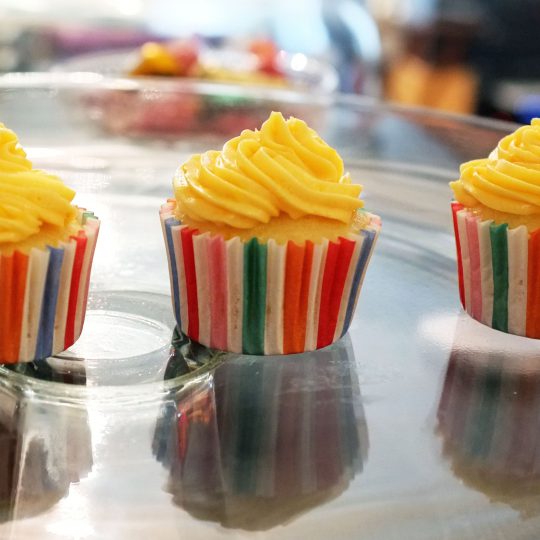 Read about this recipe in action: