Recipe:
Fresh Strawberry Cupcakes
dessert
by
Amélie Walker-Yung
Makes 30 cupcakes
2 sticks butter
2 cups sugar
5 eggs
2 teaspoons vanilla
8 ounces sour cream
8 ounces strawberry purée (with juice)*
1/2 cup chopped strawberries
1 tablespoon baking powder
1 teaspoon salt
3 cups flour
Preheat oven to 325° F. Line muffin tins with paper liners. (I used red ones!)
Combine butter and sugar, mixing until sugar and butter form a cream. Add eggs one by one, then the vanilla. Mix on medium speed until light and fluffy.
Sift together baking powder, salt and flour. Add half of the flour mixture, followed by sour cream and strawberry purée, and then add the rest of the flour mixture. Mix until combined, but do not over mix. Scoop cupcakes into lined tins and bake for 20-22 minutes at 325° F, turning the pans after 10 minutes.
*For purée: 1/2 quart fresh strawberries, sliced, covered with sugar and refrigerated 2 days, drained, then puréed (remove 1/2 cup for frosting, then mix juice back in)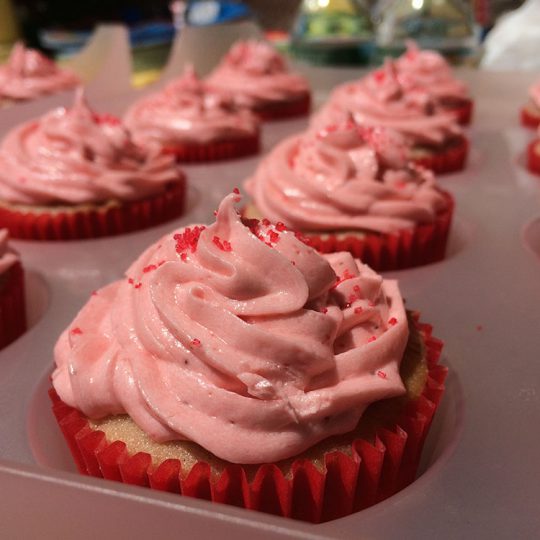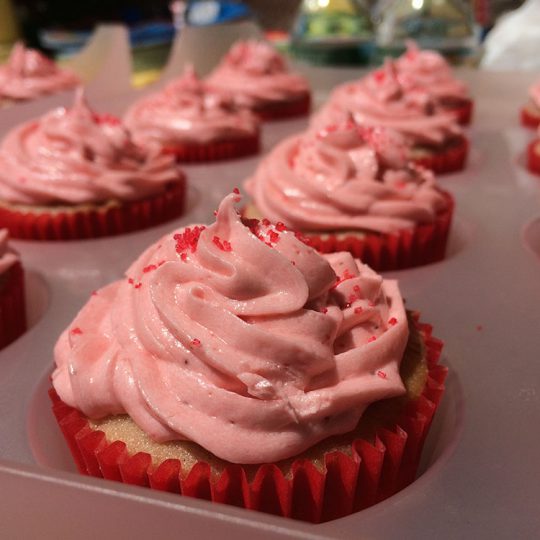 Read about this recipe in action: