Recipe:
Carrot Zucchini Chocolate Chip Cupcakes
dessert
by
Amélie Walker-Yung
Makes 2 dozen cupcakes
2 1/2 sticks butter
2 cups sugar
1 teaspoon vanilla extract
3 large eggs
2 cups flour
2 teaspoons baking soda
2 teaspoons cinnamon
1 1/2 teaspoons salt
1/2 pound grated carrots
1/2 pund grated zucchini
1 cup semi-sweet chocolate chips
Preheat oven to 350° F and line muffin pans with 24 paper liners.
Using an electric mixer, cream the butter and sugar. Add the vanilla, then mix in the eggs, one at a time.
In a separate bowl, sift together the flour, baking soda, cinnamon, and salt. Add half of this flour mixture to the mixing bowl, reserving half, and mix completely.
Add the grated carrots and zucchini and chocolate chips to the remaining flour and mix well, then add to your batter. Mix until just combined, do not over mix.
Fill cups with batter about 3/4 full. Bake at 400° F for 10 minutes, then reduce temperature to 350° F and cook for about 20 minutes more. Cooking time varies, so start checking after 10-15 minutes. The cupcakes are ready when a toothpick comes out clean.
Remove from the oven, let cool 5 minutes in pans, then remove and cool completely on racks. Top with cream cheese frosting.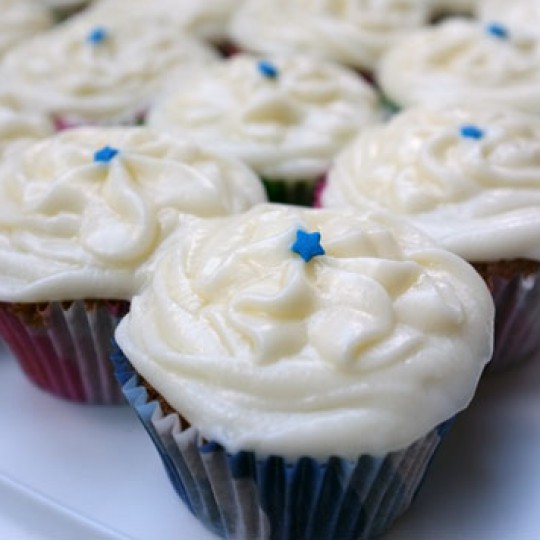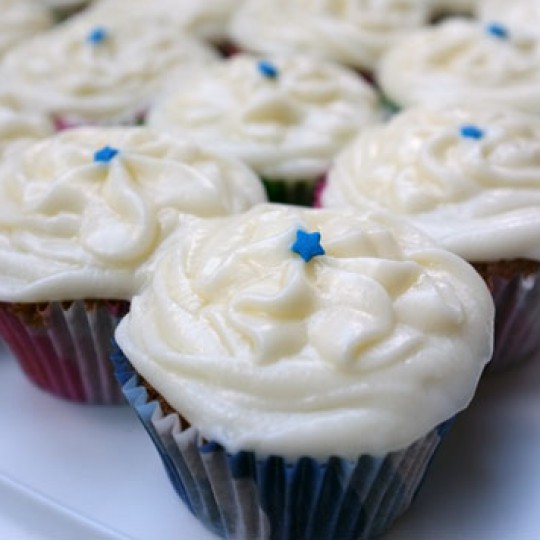 Read about this recipe in action: