Recipe:
Cherry Chocolate Chip Cupcakes
dessert
by
Amélie Walker-Yung
Makes 36 cupcakes
2 sticks butter
2 cups sugar
5 eggs
2 teaspoons vanilla
16 oz. sour cream
3 teaspoons baking powder
1 teaspoon salt
3 cups flour
1 cup chopped fresh cherries
1 cup mini chocolate chips
maraschino cherries (for tops)
Optional: Wilton Cocoa Candy Melts
Preheat oven to 350 degrees (F).
Cream butter and sugar with electric mixer on medium-high.
Lower speed and add eggs one at a time, then add vanilla. Mix on medium until light and fluffy.
Sift together the baking powder, salt and flour.
Add half of the flour mixture, followed by sour cream, and then add the rest of the flour mixture. Mix until combined.
Add the chopped cherries and mini chocolate chips, mixing on low or by hand.
Scoop cupcakes into liners and and bake for 20 minutes, turning halfway through.
Frost with vanilla buttercream, and top with maraschino cherry.
Optional: Heat Wilton Cocoa Candy Melts (or similar) to drizzle over frosted cupcakes.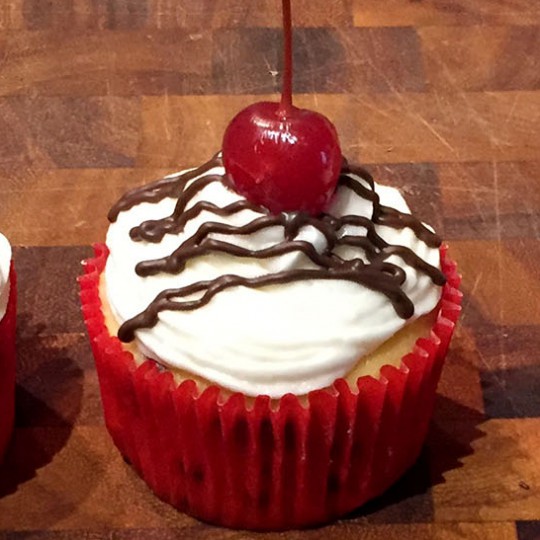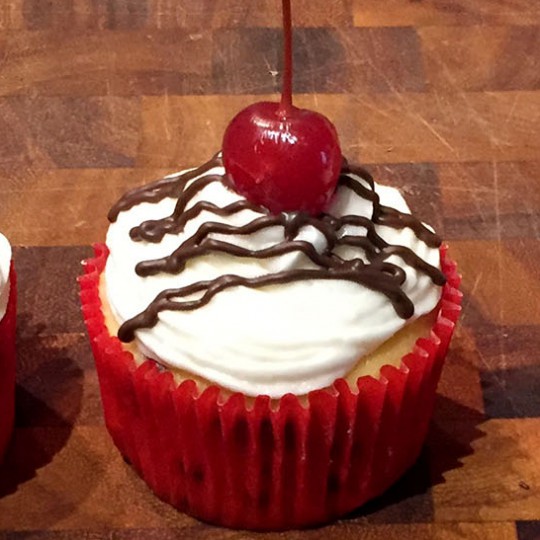 Read about this recipe in action: