Recipe:
Berry Crisp
dessert
by
Amélie Walker-Yung
Makes 12 servings
12 cups fresh berries (strawberries, blackberries, blueberries, raspberries, etc.)
1/2 cup white sugar
1/4 cup cornstarch
1 1/2 teaspoons cinnamon
1 1/2 cups rolled oats
1 cup flour blend (gluten-free flour works great)
1 cup brown sugar
1/2 cup unsalted butter, cold and cut into pieces
1/2 teaspoon salt
Preheat your oven to 350 degrees F, and grease a 9-by-13-inch baking dish.
Mix together the berries, white sugar, cornstarch and cinnamon until evenly coated and pour into the 9-by-13 dish.
Combine the oats, flour, brown sugar, salt, and butter using your hands or a pastry cutter (or both!) until the dry ingredients are well incorporated with the butter. Some lumps are fine. Add evenly over the berry mix.
Bake about 45 minutes, until the topping is browned and the filling bubbling. Cool 10-15 minutes. Serve alone or with a scoop of vanilla ice cream.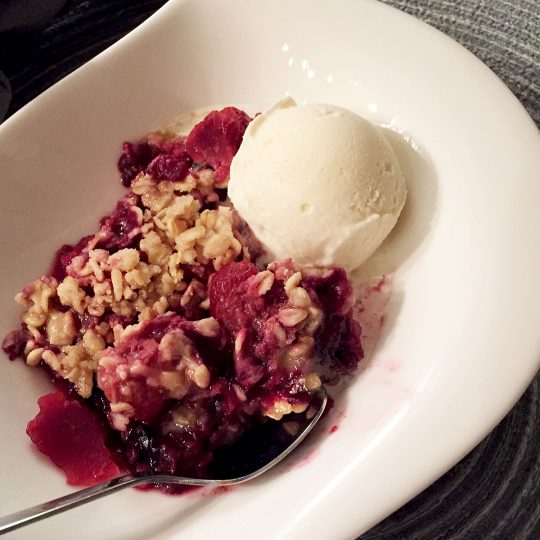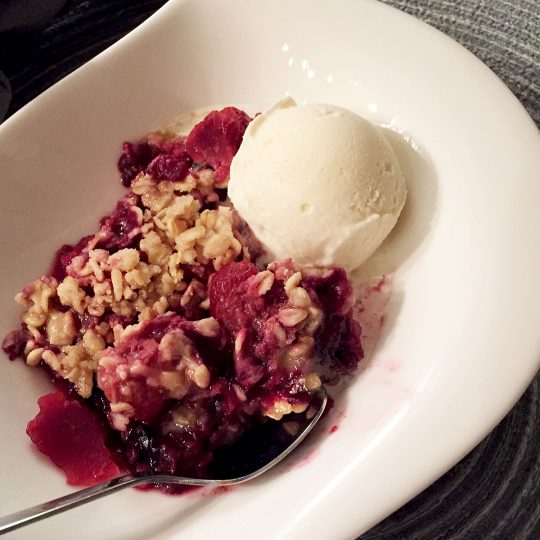 Read about this recipe in action: